How to Start an Arts Ministry in Your Church
J. Scott McElroy & Jessie Nilo, Finding Divine Inspiration
Tuesday, April 05, 2011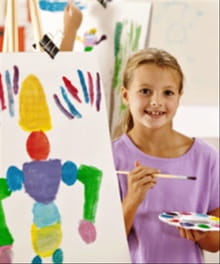 Imagine if the local church became the place in culture to experience beauty, imagination, creativity and transcendence.
It is possible.
Hundreds of years ago churches were, in many ways, centers for these experiences. Somehow, over time we've abdicated that role. Now, many churches are moving in that direction again and there's a growing desire to begin developing creative arts programs. (See Notes 1.)
The arts are inextricably intertwined with our culture. The average person encounters performance, music, design, image and the media arts daily, even hourly. Most churches would like to become more fluent in the use of the arts in order to communicate truths about God more effectively. That's a worthy goal. He designed the arts to jump over our barriers, slip past our intellect, and penetrate our hearts and souls. But God's value of the arts goes beyond human thoughts about how they could be "useful." He values them because He IS beauty and creativity. Whether His beauty and creativity are expressed in nature or through the arts, embracing them enables us to more fully understand His personality and enjoy His presence.
Many in the Church are recognizing that God is now calling us to reclaim the arts and integrate them and artists into our worship and outreaches. But most churches around the world don't currently have an arts ministry or programs, though there are talented artists in their congregations. If God has been nudging you, speaking to you about incorporating the arts into your church, here are a few thoughts on how to get started. Part One offers tips for Pastors and Leaders, Part Two for Artists.
Part One: For PASTORS AND LEADERS who want to start an arts ministry, program or outreach at their church.
1. Start praying now about what God wants to do with the arts at your church. Just as pastors have specific messages from God for their congregations at specific times in history, so it is with the artists He has planted in your congregation. As you train them to hear God's voice they will bring powerful messages that enhance what He is doing in your congregation. Read a book like Finding Divine Inspiration or Heart of the Artist to better understand how to disciple and encourage artists. The arts have endless applications in ministry. They can enhance worship, illustrate or enhance ideas and concepts, stir emotions, add beauty, enliven outreach and intuitively communicate God's messages (see Notes 2 for ideas.) Ask God to give you a vision for what He wants to do through the arts in your church.
2. Pray for the right person to lead your artists. You want an arts ministry to develop naturally, in God's timing and to not be forced. Arts leaders can be difficult to find. Your ideal arts leader will need to be a mix of pastor and administrator. Their pastoral tendencies will be important to shepherd, encourage and understand the artists, and thier administrative skills will help with the follow-through that artists and artistic projects need. It's helpful if the leader has artistic talent, but not necessary as long as they understand the creative temperament. Make a commitment to disciple this person; they will be a huge asset to you and your church. (See Notes 3).
3. Invite Artists to meet and pray. Put a notice in the bulletin inviting interested artists and creative types to meet at the church or a nearby coffeehouse to pray and talk about possibly starting an arts ministry. Use the time to gather contact information and circulate a survey (see Notes 4 for survey). Share the vision God has given you for the arts in your church. You might also take some time during the meeting to brainstorm and listen to God together, asking Him how you can collaborate with Him through the arts to bring His messages to your congregation. (See Notes 5).
Have something to say about this article? Leave your comment via Facebook below!
advertise with us
Example: "Gen 1:1" "John 3" "Moses" "trust"
Advanced Search
Listen to Your Favorite Pastors