Afterlife Explored in I Survived ... Beyond and Back
Laura MacCorkle, Senior Editor, Crosswalk.com
Friday, October 21, 2011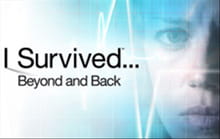 Since the days of John 11, we've all read or heard of amazing stories of people who've been pronounced dead and then miraculously come back to life.
In modern times, though electronic monitors proved they did indeed flatline, at some point their hearts began beating again. And apparently, as many survivors say in retrospect, "it wasn't their time."
Some of these unbelievable experiences have been chronicled in popular books, such as Don Piper's 90 Minutes in Heaven or the more recent New York Times best seller Heaven Is for Real, which has already been optioned for film.
Other testimonies are being shared on the small screen by A&E Television Networks' BIO Channel in its compelling series, I Survived ... Beyond and Back. And this Sunday night, October 23, 2011, Tyrone, Noelle and Mick are sharing their incredible stories in the second season's premiere episode.
"I was in hell," admits Tyrone, a self-described "ladies' man" who sold drugs and lead a life of pleasure that was heading nowhere before he died and came back to life.
In his profile, viewers learn that Tyrone was dead for four minutes and in critical condition in the hospital. Saying that the stench was worse than any decay or old food in the fridge, he recounts seeing lines of souls crying out in dark tunnels and a demon's faced carved in the cavernous rock while standing in hell. Over the course of the hour-long documentary show, this soft-spoken man continues sharing how a terrifying car accident in July of 2001 and the subsequent loss of his limb helped turn his life around and caused him to "become a better man."
Seven years later, in Stockton, California, Mick says he saw one of the greatest names ever recorded in the Old Testament after dying from a succession of three heart attacks.
"I knew it had to be Moses," he says of the man he thought to be speaking either Hebrew or Aramaic in his recollection. With olive skin and dark brown eyes, Moses was holding stone rock tablets which lead Mick to his natural conclusion. But soon he realized they weren't alone.
"And then I feel this warmth on my back left shoulder. ... I think it was the Almighty himself on my shoulder."
Called "gruff" by his daughter, the football coach says his death experience and then waking up in the hospital to so many friends and family who had gathered to say their last goodbyes was overwhelming. Today, he describes himself as more sentimental and "in tune" with certain things. But he's still not afraid to die.
Have something to say about this article? Leave your comment via Facebook below!
advertise with us
Example: "Gen 1:1" "John 3" "Moses" "trust"
Advanced Search
Listen to Your Favorite Pastors