Afterlife Explored in I Survived ... Beyond and Back
Laura MacCorkle, Senior Editor, Crosswalk.com
Friday, October 21, 2011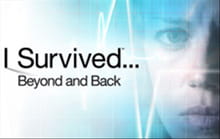 Rounding out this episode of I Survived ... Beyond and Back is twenty-something Noelle who contributes the third survivor story.
Back in the summer of 2005, the Monroe County, New Jersey-ite was in between her sophomore and junior years in college. She loved the beach, going out with her friends and horseback riding. But all she ultimately really cared about, she confesses in her interview, "was how many parties I went to, how skinny I was and that was it."
An athlete and accomplished equestrian, Noelle was fearless. But at one horse show, she had every reason to be afraid when her horse abruptly shied away from a jump. "He began bucking, rearing, acting up and lost his balance." The horse fell, and Noelle was thrown with her head getting the brunt of the fall and her brain detaching from her skull.
"The first thing I remember was going through this beautiful sky, through white fluffy clouds to a brightly lit place," she describes after being transported to the hospital. After lapsing into a coma, Noelle got severe pneumonia and suffocated. She was dead for over three minutes.
"I see a figure," she remembers of what she believes she experienced after dying. "As I got closer, I realized it was my deceased uncle. . . . I asked him if this was heaven and he said, 'Yes.' I said, 'It's far too soon. I'm only 20 years old. Can you ask if I can go back?'"
Noelle then shares that her uncle told her she would be allowed to do so, but that her recovery would be difficult and that she may be sorry she'd asked to leave heaven.
After emergency doctors suctioned fluid from her lungs to revive her, Noelle gradually reawakened and embarked on a long journey of physical, occupational and speech therapy to help her get her life back and be able to finish her business degree.
"I know that there's life after this life after earth," she says, now a 2010 college graduate and advocate for people with traumatic brain injury. "I know that it's joyous, and it's incredible and I really trust it."
Proving whether these experiences shared by Noelle, Mick and Tyrone are true or false isn't the purpose behind I Survived ... Beyond and Back. And neither does the series take a position on heaven or hell or any religious belief or philosophical point of view for that matter. It simply lets the storytellers tell their stories and allows viewers to come to their own conclusions about the afterlife.
Recently I spoke with Fred Grinstein, Director of Nonfiction & Alternative Programming at A&E Television Networks, about the series and asked him to share more about the genesis of the show, how these survivors are discovered and make it on air and why stories from beyond and back can be powerful and worthy of discussion.

---

How did you come up with the concept for I Survived ... Beyond and Back or is it just a natural spinoff of BIO Channel's original series, I Survived?

I think it was. I mean I Survived, the original sort of franchise, is obviously very important to BIO. It's been on for a while, and we produce with the same production company. We always think about how to continue spinning off the successes we have. We just recently did an I Survived ... 9/11 special. So you know it's something we definitely see as a franchise, and in some ways this one—I wouldn't say it took on a life of its own—but I think it's definitely a unique spinoff. We kind of came across these stories of people who have a survival story that happens to involve a little bit of an afterlife experience. And I think sort of the dots connected, and it kind of came about as a good idea to try it out as a pilot. And we liked the pilot a lot and then we commissioned six hours that we aired last year. And then what we're looking at here is sort of the continuation of that.
Have something to say about this article? Leave your comment via Facebook below!
advertise with us
Example: "Gen 1:1" "John 3" "Moses" "trust"
Advanced Search
Listen to Your Favorite Pastors