Impossible Goals are Possible with Bible Study
Karen Jones, Bible Study Magazine
Thursday, November 15, 2012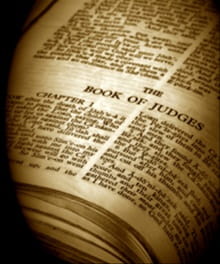 Editor's note: This article ran originally in the Jan-Feb 2010 issue of Bible Study Magazine.
Far from the desperate poverty of the Baltimore ghetto he was born into, Chaplain Barry C. Black has amassed an extraordinary list of achievements in his sixty-one years. Currently the 62nd Chaplain of the United States Senate, Black is also a retired Rear Admiral in the United States Navy, where he served with distinction for nearly 30 years, eventually rising to Chief of Navy Chaplains. A dedicated trailblazer, he was the first African-American to be named Chief of Navy Chaplains and the first to preside over the spiritual welfare of the lawmakers on Capitol Hill.
Convinced from an early age that God wanted him to excel, Black earned a Doctorate of Ministry from the Eastern Baptist Seminary in Pennsylvania and a Ph.D. from the United States International University in California. His long list of prestigious awards includes the Navy Distinguished Service Medal, the Legion of Merit Award, two Defense Meritorious Service Medals, and the NAACP Roy Wilkins Renowned Service Award for contributing to equal opportunity and civil rights.
His 2006 autobiography, From the Hood to the Hill: A Story of Overcoming (Thomas Nelson) chronicles his inspirational journey. It is the first of seven books he would like to write, says Black, when he spoke with Bible Study Magazine about a variety of topics.
The Bible Challenges Street Gangs and Siren Calls
Chaplain Black grew up in a bleak Baltimore public housing project called Cherry Hill. He rarely saw his father, but his mother, the daughter of sharecroppers, was a profound force in his life right from the start. She was pregnant with Chaplain Black at the time she was baptized and always felt he was "set apart by God." He would later agree with her.
In a neighborhood filled with the "siren call" of street gangs, Chaplain Black's mother battled against tough circumstances with daily Bible study. "My mother had morning and evening worship and she gave my siblings and me an allowance based on scriptural memorization. She had a flat rate—we got 5 cents a verse. It motivated me to memorize Scripture. She knew if she could get God's Word in us, the Word would do the rest, and she was right."
As a teenager, he did not suffer a true crisis of faith, but he says he did briefly flirt with the dark side. "At around fourteen or fifteen, I started hanging out with some of the gangs and getting involved in activities that I shouldn't. I think it was a matter of trying to test the validity of faith and experiment with the other side. So I think it was more curiosity than a real break with faith. I always knew I was going to come back, so I thought 'let me get a quick education in evil.' "
It did not take Chaplain Black long to come "running back" and embrace his faith whole-heartedly. He completed his education and received a BA of Theology at Oakwood College in Alabama (1970) and a Masters of Divinity at Andrews Theological Seminary in Michigan (1973). He began pastoral duties in North and South Carolina. It was during his tenure in the Raleigh-Durham area that he noticed certain sailors making a five-hour one-way commute to worship. "I knew that I was not that good of a preacher so I said, 'Why do you guys make this drive?' They said they had never seen an African-American Navy Chaplain. So that triggered my interest in the military and the Navy as a career option."
In the Navy, "Power-Hour" Bible Study Works
He became a Navy Chaplain in 1976, serving as a pastor for military personal and their families. Whether on ship or at shore he would organize a daily lunchtime Bible study dubbed the "Power Hour" so sailors and marines "could be invigorated by the inspiration of Scripture." In the evenings he would conduct another Bible study often associated with a religious movie. "I did that because usually in the evenings sailors and marines would be looking at movies. I wanted a spiritual spin on what they would be doing anyway, so the announcement would go over the public address system about my Bible study. And then we would see different movies and seminars and discuss them."
Have something to say about this article? Leave your comment via Facebook below!
advertise with us
Example: "Gen 1:1" "John 3" "Moses" "trust"
Advanced Search
Listen to Your Favorite Pastors