Matt Chandler's Bible Study 101
Tim Newcombe, Contributor to Bible Study Magazine
Thursday, June 13, 2013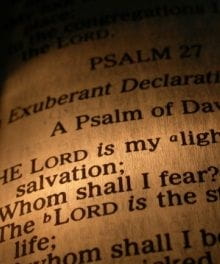 "Where the Word of God goes out, there's always a response," says Matt Chandler, Lead Pastor of The Village Church in Highland Village, Texas. "There's an immediate response to the Word of God and then there's a continuing response. The Scriptures are primary, but you've got to build on them in expectation of (and accountability for) their application." For Chandler, 35, Scripture must be balanced with practical application because a church's emotive response is driven by its theological framework.
Matt Chandler preaches a reliance on God's Word with passion because he wants his congregation to believe it. After arriving at First Baptist Church of Highland Village in 2002—renamed The Village Church—Chandler was surprised by the congregation's lack of interest in the Bible. So, he focused his efforts on raising people's affection for the Bible. Since spotlighting Bible study in 2002, the congregation has grown from around 200 attendees to about 6,000 across its three campuses.
Village Church's growth is rooted in Matt's, and subsequently the church's, priorities. Whenever Chandler is asked, "What books do you recommend for pastors?" He responds, "The Bible. I understand the need for books on leadership, theology and history. My hope is that you would feast on the Scriptures, feel the angst and awe and be overwhelmed by the gospel of our great God and King. This book is life-changing and sufficient." His priorities are clear. And they begin with his personal Bible study.
Scripting Bible Study
Chandler's personal time in the Bible is scripted. "Every morning I get up and follow a guide," he says. "I read through the Scriptures—just the text, no devotionals. I found my Bible reading plan online, downloaded it, and put it into an Excel program. I just check off each reading when I've done it." This plan keeps Chandler focused on the overall theology of the Bible and doesn't give him the wiggle room to follow his own whims, which could steer him off course. "You aren't reading through the whole Bible in a year, but you're getting a very detailed overview of it."
Chandler suggests each person find a reading plan that fills in the gaps of their own study weaknesses. His default is focusing on specific passages in a biblical book, and not the meta-narrative (or grand story). "I don't naturally think of the meta-narrative," he says. "But in my reading plan, I am getting big chunks out of every book." Focusing on larger sections of the Bible changes his focus to God's grand story: "I need a little help on that," he admits.
Bible Study First; Sermon Prep Second
To prepare for weekend services, Chandler clears his schedule on Tuesdays and Thursdays. His Tuesday is filled with biblical interpretation. He tackles the Greek; he wrestles the Hebrew. "I'm trying to figure out context," he says. "On Tuesdays, I'm just kind of prayerfully working through a biblical text. I tend to preach through books in my Bible study and then every once in a while, when I've got to get to the bottom of a topic, I'll deliver extra topical sermons. But I primarily study and preach through a book."
Thursdays are spent turning theological knowledge into real-life application: He tosses in illustrations, transitions and often the exact words he will use in a sermon. Chandler says that this style can fit anyone: "Pure textual study mixed with real-life meaning is the perfect blend of theology and application." This mixture provides Chandler with the "vision" his congregation needs.
Instead of relying on himself to come up with that vision, he just follows the lead of the Bible. "The reason I enjoy studying books of the Bible is because I don't have to ask, 'How do I creatively communicate this?' " He explains, "I just work on what follows next and that focuses me on things that I wouldn't naturally think to address, or would naturally want to address." Chandler also suggests this method for private study, acknowledging that at any moment a topic or idea can be further explored, but that the biblical text needs to be our primary focus and guide.
Have something to say about this article? Leave your comment via Facebook below!
advertise with us
Example: "Gen 1:1" "John 3" "Moses" "trust"
Advanced Search
Listen to Your Favorite Pastors