Matt Chandler's Bible Study 101
Tim Newcombe, Contributor to Bible Study Magazine
Thursday, June 13, 2013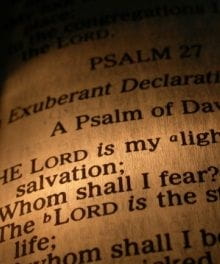 In this vein, Chandler regularly challenges people to make sure they are reading both the Old and New Testament. "You need them both," he says. "You better understand each testament by understanding them together. By not covering the entirety of the Scriptures, you can't even begin to fathom the entirety of God."
Bible Study in the Pulpit and in the Family Room
Chandler does not just deliver a sermon; he studies the Bible in front of a live congregation. Because Chandler primarily goes through the Bible one book at a time, his congregation knows where he is going. They each read the text. Later, in small groups in their family rooms, they have an opportunity to offer their thoughts and ask questions. The groups discuss the weekend's sermon and are given a Bible reading list for further study.
The Village Church creates what Chandler calls "communal beauty" via digital methods as well. By posting "Fridays with Matt" on his church blog, Chandler does not just prepare for a Sunday; he encourages his congregation to prepare. He suggests they read the text and be searching for God's grand narrative. The church has a sermon podcast and has created dvds for its small group curriculum. The first dvd they produced was a six-hour practical teaching through the book of Philippians. "It's just exegetically walking through the text in twelve, 30-minute sections," Chandler says. "People can do that at home by themselves."
Chandler wants to get useful Bible study tips into the hands of his churchgoers. "They're hearing me say, 'You better be in the Word. You've got to be in the Scriptures.' " He backs that up with available tools. The Village Church Web site (TheVillageChurch.net) also includes Chandler's curriculum "Bible Study 101" and "Bible Study 201." "Bible Study 101" is about how to read the Scriptures every day. "Bible Study 201" is the next step: how to interpret the Scriptures.
Unapologetic Bible Study
Eight years into Chandler's ministry at The Village Church, Bible study is the focus. "We're going to unapologetically believe the Bible," says Chandler. "And we're going to unapologetically preach it and proclaim it." Chandler wants the Bible to be at the center of his church and the family rooms of his church members. He insists it be in their genes.
"At the end of the day, we don't want to pool ignorance," says Chandler. "We want to guide people through what passages we get into. And then (after detailed study of the Bible in small groups), we do heavy application. The last question of our small group meetings is always the same: 'What needs to change about your life in light of these truths and how can the group hold you accountable for that?' Everyone has to answer that question leaving group every week; every time they meet."
For Chandler, Bible study then becomes what he calls a "beautiful circle of people learning the Word, working to apply it, and use it." This is what enables application. It "raises the affections of people toward the Bible" with the goal of personal growth.
"Educating the laity is our only real shot at beating indifference," says Chandler. "You can't pursue God well without the Scriptures."
Bible Study 101
Chandler's main piece of Bible study advice: "Don't read the Bible like another book." To keep you from doing so, here are the highlights from Chandler's "Bible Study 101":
Develop a consistent time and place to study the Bible.
Find a reading plan that works for you: a plan that will give you a clear direction and purpose. "Reading plans force the issue," Chandler says. "They make you read things you wouldn't usually read."

Have a journal handy when studying. "The Bible is our way of submitting our lives to the Lord," remarks Chandler. "Journaling reinforces areas of your life that you are working to improve."

Before you start your study, pray that God will reveal things to you. Chandler says that during Bible study, texts often "jump off the page" to him after he has prayed.

Have a highlighter and pen handy to keep track of what is being revealed to you.

Use a 20-20-20 plan: 20 minutes reading Scripture, 20 minutes journaling, and then 20 minutes praying or sharing about those thoughts.

Pick a key verse out of the day's reading to spend more time studying.

Don't make your applications general. They need to be accompanied by specific and direct steps that you can put into practice today—to be obedient to the revelation of Christ.

Try doing your reading plan with a spouse or roommate. Instead of spending the last 20 minutes praying, spend it discussing. Marvel at the differences the two of you find in the same texts and the way discussing it strengthens your marriage or relationship.
Bible Study 201
Have something to say about this article? Leave your comment via Facebook below!
advertise with us
Example: "Gen 1:1" "John 3" "Moses" "trust"
Advanced Search
Listen to Your Favorite Pastors