Matt Chandler's Bible Study 101
Tim Newcombe, Contributor to Bible Study Magazine
Thursday, June 13, 2013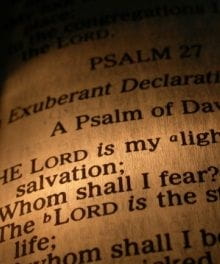 Chandler says that "digging into specific books of the Bible is a great way to tackle the Scriptures." "Bible Study 201" is all about that. Here are the highlights:
Understand the book culturally from the Bible's point of view. Start by searching the rest of the Bible for any other mention of the place or person you are about to study. If you're studying Philippians (like Chandler did with his church), Acts is a good reference point: Acts discusses Lydia, the jailer mentioned, and the girl who is demon-possessed.
Use tools, like commentaries. Commentaries and Bible dictionaries help you understand the cultural context based on other historical sources they consult.

Outline the book chapter by chapter.

Read the biblical book looking for major themes and points that the author emphasizes. Searching for repetition is a good way to discover emphasis.

Conduct word studies. Word studies become "very important" to understanding context and culture, Chandler says. "You really get to a place where you can say, 'Oh, this is what he's talking about.' "

Come back to context. "It is very important to look at the context (again), lest you look foolish," Chandler says. Context also allows you to effectively pick the proper passages of Scripture when ministering to others.

Application. Although Bible study is not synonymous with application, it must be the final thing we do, and the item for which we are accountable.
Bible Study after Brain Surgery
Radical life circumstances have strengthened Chandler's reliance on God's Word. While at home on Thanksgiving morning 2009, Chandler suffered a seizure. He hit his head while falling and was taken by ambulance to a nearby hospital.
Soon thereafter, Chandler, his wife Lauren, and their three children learned that he had a 2-inch tumor on the right frontal lobe of his brain that required immediate surgery. The Chandler family took to embracing the love and support of their church body and was strengthened by Scripture.
In a video shown to the church before the early December brain surgery, Chandler says he trusts the Lord with everything. He also mentions that a recent passage he had been preaching when traveling—Hebrews 11—struck a new chord with him.
In verses 33–38, Hebrews 11 talks of men who shut the mouths of lions and some putting foreign armies to flight and more—all good things that happen to the people of God. "Right in the middle, it just turns and says that some were tortured and some were sawn in two and some destitute, but all walked in faith," Chandler says. "All (God) has ever given me is nothing but good. I've always felt that when I taught my message there was a hitch in that some don't get (the trials). I have had victory after victory after victory. There is this part of me that is grateful that the Lord counted me worthy for this. Now, in an area that is not a big win, I get to show He is enough. I get to praise Him and exalt Him in this."
Chandler and his family have cried their share of tears, as he is careful to note, but it is the family's strong foundation in Jesus that helps them understand that "none of these things are better than Him."
"And I'm saying that right now," Chandler says. "Not as the guy who has everything, but as the guy who could lose everything in an instant. I'm not afraid. Don't you dare use me as an excuse to live in fear. God does not send us anything He does not provide strength for."
Have something to say about this article? Leave your comment via Facebook below!
advertise with us
Example: "Gen 1:1" "John 3" "Moses" "trust"
Advanced Search
Listen to Your Favorite Pastors