Love's Bottom Line: An Easter Message
Kenny Luck, Founder, Every Man Ministries
Wednesday, April 16, 2014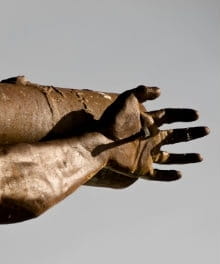 The headline might suggest this article is about romance, holding hands, walks on the beach or even the "little blue pill." But it's not. No, this may be the least sexy article we have ever done on love and relationships, definitely not the warmest, and, if you take it to heart, it will cost you. How's that for advertising?
In Gary Chapman's famous classic "The Five Love Languages," we learn about meaningful ways we love others, including words of affirmation, touch (men's favorite by far), spending quality time, acts of service and giving gifts. And while these are important, there's a type of love Jesus models that gives the truest accounting of love we all look for, we all want and we all need to learn to give daily. But it doesn't get the headlines.
Unchallengeable, bottom line love requires sacrifice. The greatest love we can give is sacrificial love or, more practically, when we say "no" to ourselves in order to say "yes" to discomfort for the benefit of another. It's that simple, that hard, and that profound to the other person. Jesus prophetically explained love's bottom line for us for all in John 15:13 when said:
"Greater love has no one than this, that one lay down his life for his friends."
In other words, sacrificial love takes all mystery and guesswork out of play and replaces it with a rock solid message: I am willing to set my own comfort and well-being aside to secure your well being and comfort. That's not to suggest, we go out and look to be a heart-transplant donor. Instead, we look for ways in our daily relationships where God would call us to sacrifice what we want (feelings), and love someone else sacrificially (faith).
Before Jesus endured horrendous torture and was crucified, he revealed a human nature desiring to live and avoid the painful consequences of God's plan. He even asked God if there was a "PLAN B." But instead of choosing emotionally he sacrificially chose God's will. In the greatest love moment of all time and eternity he chose faith over feelings.
To communicate true love like Jesus did, sacrificing His life, we too have to choose between our feelings and our faith every day and in every setting that involves people. And when we go against those feelings to love others by limiting ourselves, we communicate true, Jesus powered, sacrificial love.
How to Show True Love Beyond Easter
While the Easter Holiday gives the ultimate example of sacrificial love, it's not meant for a one-time occasion. So here are tips and reasons to show "true love" beyond Easter:
1. Lay It Down
When Jesus volunteered His life, trusting in God's will and plan, He gave us the gift of forgiveness of our sin (salvation), redeemed all who believe in Him with eternal life (redemption) and allowed us to live with Him forever (resurrection). In other words, He laid down His life, so we might have life.
Whenever you love sacrificially, you lift the burden for someone else. That's what leads to the blessing. Without Jesus' sacrifice, we would not have salvation, redemption and resurrection. Jesus modeled the ultimate act of love, now we need to do the same, and love sacrificially.
2. Give It Up
Sacrificial love isn't about what we take up for ourselves, but what we give up for others. It's a matter of the will, not the heart. Instead of demanding, try serving. Give up your desires for free time, affection, attention, money and instead give your self, time, affection and money to others. In terms men can understand easily, give up control of the remote and take out the honey-do list.
Have something to say about this article? Leave your comment via Facebook below!
advertise with us
Example: "Gen 1:1" "John 3" "Moses" "trust"
Advanced Search
Listen to Your Favorite Pastors