Mission Briefing: Sheep Among Wolves
Kenny Luck, Founder, Every Man Ministries
Tuesday, September 04, 2012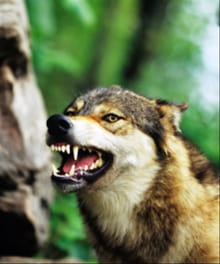 Sane men who call attention to these evil sponsored campaigns are considered goofy and the goofy men playing with the rabbits are considered sane. That kind of dysfunctional view of spiritual warfare makes those who are fighting it with wisdom and integrity upset at those who should be fighting but aren't. "Today," says Bono (front man for mega-band U2), "it's a load of sissies running around with their 'bless me' clubs and there's a war going on between good and evil. Millions of children and millions of lives are being lost to greed, bureaucracy, and to a church that's been asleep. And it sends me out of my mind with anger" (The God Factor, Cathleen Falsani Sarah Crichton Books, New York, NY 2006 , p.12) You can just feel the frustration and, at the same time, feel Satan's elation. "Lovely," he sighs. "My wolves have been accepted as rabbits and squirrels." Even now I can see Satan saying to you: "Why is this Luck guy all jacked up about this? Bono? Who are you kidding? He's no theologian. Relax. Tranquilo. Chill. Get back to the game, put the book down, grab some chips, and pour yourself that Diet Coke."
He's not just really smooth, he wants you to let him remain hidden or docile or both. Don't let him lie to you. Listen to Jesus: it's WOLVES not rabbits! Suit up in you're your armor and don't let your guard down today.
Kenny Luck is the men's pastor at Saddleback Church in Lake Forest, Calif., and the president and founder of Every Man Ministries. He has authored and co-authored nearly 20 books, including his latest, Sleeping Giant: No Movement of God without Men of God (B&H Books).
Publication date: September 4, 2012
Have something to say about this article? Leave your comment via Facebook below!
advertise with us
Example: "Gen 1:1" "John 3" "Moses" "trust"
Advanced Search
Listen to Your Favorite Pastors