Slaying the Dragon: Out With The Chump, In With The Champ
Kenny Luck, Founder, Every Man Ministries
Thursday, March 14, 2013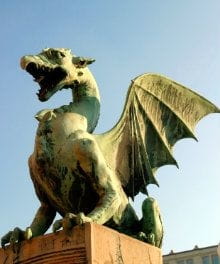 This is the second in a four-part series we are calling "Slaying the Dragon," where we will explore God's destination for us. All men have dragons standing in their way, preventing them from being closer with God. We are going to look at how to slay the dragon. To slay your dragon you have to have a sharp blade and a clear aim. Along our dragon slaying journey, we'll talk about some dragon slayers. Finally, we'll give you spiritual solutions to slaying your dragons and allowing you to get to your physical destinations, health destinations, professional destinations, personal destinations and emotional destinations. Sin is the dragon that we all have to slay.
When we look at Romans 8:29, I want you to see that God's preplanned journey for every person is to become like Christ. "For those God foreknew He also predestined to be conformed to the image of His Son, that He might be the firstborn among many brothers and sisters."
His plan is not to accessorize your life. It's not for you to become wiser. It is for you to become like Jesus. That's the definition of every God's man. Let's get that really, really clear.
Say that out loud: "To become like Christ."
It's out with the chump, in with the champ. That's the way I look at it every day: I wake up with less Kenny and more Christ. You can put your own name into that equation. That is what God is doing.
That's the goal. That's the journey. That's the path. It's like a knight who has been commissioned to go on a quest. That's your quest and that's my quest. My quest is to become more like Christ and to do whatever it takes, to fight any foe that comes against that quest and go against any enemy.
Now it's time to look at the dragon.
If you have a Bible, turn to Hebrews 12:1-3. We're going to look at the obstacle — the dragon — that we need to slay.
Hebrews 12:1 says: "Therefore, since we are surrounded by such a great cloud of witnesses, let us throw off everything that hinders and the sin that so easily entangles. And let us run with perseverance the race marked out for us,"
Verse 2 goes on to say: "fixing our eyes on Jesus, the pioneer and perfecter of faith. For the joy set before him He endured the cross, scorning its shame, and sat down at the right hand of the throne of God."
Verse 3 says: "Consider him who endured such opposition from sinners, so that you will not grow weary and lose heart." What an example of a person who had a destination and fought hard to get to that destination. He fought battle after battle after battle, not to get to a place of success and comfort by the way, but a place of sacrifice and suffering to pay a price for our sins.
What I love about that passage is the picture of a runner. Go back to verse one of that passage. It's a picture of a stadium where a marathon runner comes in. That's you, and you are running the last lap. Picture the great crowd of witnesses surrounding you. Imagine coming into that Olympic stadium. You hear the roar of the crowd. You picture the scene. It's what you have been dreaming of and training for. Press the rewind button and go back to the start 26 miles earlier. You have people cheering you on but the goal is to last, to economize your efforts.
I don't know how many of you run, but no one runs in a Pea Coat. You don't put on a scarf or wear a backpack. If you watch runners at the beginning of a marathon, they have next to nothing on. They have the lightest shoes, the lightest clothing, the lightest tank top. Why? Because they need the economy of effort, the less drag there is, the easier it is to get to the destination.
Have something to say about this article? Leave your comment via Facebook below!
advertise with us
Example: "Gen 1:1" "John 3" "Moses" "trust"
Advanced Search
Listen to Your Favorite Pastors