Slaying the Dragon: Right Priority Delivers Right Power
Kenny Luck, Founder, Every Man Ministries
Monday, March 18, 2013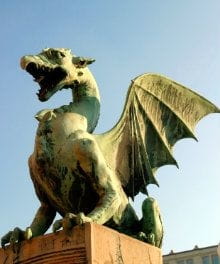 Cut it off!
Here's the thing about amputation. It's a little different in the first century than it is in our time. There was no Dr. Feelgood: no Lidocaine, no antiseptic. At best, maybe you got some wine, but when Jesus says cut it off, He means this is going to hurt. Amputation, while painful, is thorough because cutting it off is the only way to survive. It's what makes the pain worthwhile.
When it comes to this dragon that we call sin, it is anything in your life that does not show love for God and others on the outside. More importantly, it's about what's on the inside; in your heart, your thinking, your attitude, your integrity, there in your private life.
Jesus says the dragon is sin. The solution is to slay. Cut the head off from sin. We know our destination. We know the dragon.
Let's look at Philippians 3:7-10. We're going to look at a dragon slayer by the name of Paul. He shows us some of the perspectives and skills that we are going to need.
Listen to this dragon slayer talk.
"But whatever was to my profit I now consider loss for the sake of Christ. What is more, I consider everything a loss compared to the surpassing greatness of knowing Christ Jesus, my Lord for whose sake I have lost all things. I consider them rubbish. I consider them rubbish that I may gain."
Let's stop right there. See what he's after? He's after the destination, to be like Christ. He says you know what? I want this more than I want that. I want Christ more than I want comfort.
In verse 8, you see the value assigned. Everything is secondary compared to the surpassing greatness of knowing Christ Jesus, my Lord. Here's a guy who has his priorities straight. Paul is a dragon slayer. If you have the right priority, you'll have the right power. You know how I know the right priority? It is by knowing where your motivation, your energy and your investment is.
Is Christ your priority?
You notice that the words "loss" and "gain" are used. It's almost like a financial ledger. I consider everything lost in order that I may gain Christ.
Verse 9 says: "…and may be found in Him not having a righteousness" — that's character by the way — "not of my own that comes from the law but that which is in faith in Christ".
Let's finish verse 9 together: "The righteousness that comes from God and is by faith."
That's an important verse. If you have a Bible, you might want to underline "and be found in him."
That's where we get the target affirmed. The right priority produces the right power, and then the right perspective adds to that power.
What's that perspective?
God wants to find me becoming like Christ, having more righteousness. Whenever you see the Bible talk about having a righteousness not of our own, but that which comes from faith in Christ, it's character replacement. When He found me I was all wrong, but then He started making me right. When He found me, that's when my character began to change, that's when I began to experience the living Christ in me pushing Kenny out and putting Himself in. As I got to know Him, as Paul talks about in Philippians 3, soon I found myself reflecting on Him. That's ultimately the goal, being found by Him, and being like my big brother Jesus. God wants me to more like my big brother.
Verse 10 says: "I want to know Christ and the power of His resurrection and the fellowship of sharing in His sufferings becoming like Him in His death."
There's the right person. The right priority, the right perspective is being found in Him, the right person. I want to know Christ, that's the focus. The Greek word here means to know intimately. Do you know anybody intimately? Do you know their thoughts and they know your thoughts? Do you know how they feel about things and do they know how you feel about things?
Have something to say about this article? Leave your comment via Facebook below!
advertise with us
Example: "Gen 1:1" "John 3" "Moses" "trust"
Advanced Search
Listen to Your Favorite Pastors