Slaying the Dragon: The Journey Of The Slayer
Kenny Luck, Founder, Every Man Ministries
Thursday, March 21, 2013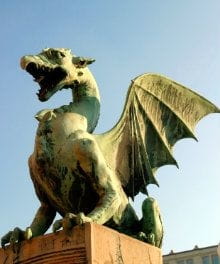 This is the fourth in a four-part series we are calling "Slaying the Dragon," where we will explore God's destination for us. All men have dragons standing in their way, preventing them from being closer with God. We are going to look at how to slay the dragon. To slay your dragon you have to have a sharp blade and a clear aim. Along our dragon slaying journey, we'll talk about some dragon slayers. Finally, we'll give you spiritual solutions to slaying your dragons and allowing you to get to your physical destinations, health destinations, professional destinations, personal destinations and emotional destinations. Sin is the dragon that we all have to slay.
What are you sacrificing today in your life? What's the pain that you are enduring to know Christ?
Let me boil that down. If you love your wife and you want to honor God in your marriage, you'll suffer counseling to win intimacy. That's the kind of pain I'm talking about. If you love Christ and you want to be one with Him and you struggle with lust, porn and fantasy, you will suffer the pain of confessing that to a brother who will help you win that battle. If there is a habit that you have that is not in alignment with God's will, it hurts you and your relationships with other people.
That's what Paul is talking about in Philippians 10 when he says, "I want to know Christ—yes, to know the power of his resurrection and participation in his sufferings, becoming like him in his death…"
Why go through all this effort?
Paul says in verse 11-14: "and so, somehow, attaining to the resurrection from the dead. Not that I have already obtained all this, or have already arrived at my goal, but I press on to take hold of that for which Christ Jesus took hold of me. Brothers and sisters, I do not consider myself yet to have taken hold of it. But one thing I do: Forgetting what is behind and straining toward what is ahead, I press on toward the goal to win the prize for which God has called me heavenward in Christ Jesus."
You see the picture: the striving, the sacrifice, the energy, the critical moment where I have to press through my adversity in order to gain Christ. The character of Christ isn't free. I have to strive and say no to certain things, and say yes to Him and work through them.
Forgetting what is behind and straining to what is ahead, I press on toward the goal to win the prize for which God has called me heavenward in Christ Jesus. God is calling you to meet Christ Jesus, to become like Jesus, and ultimately to be found in Christ Jesus in Heaven. He is pushing you to a loving act that no one else could ever have done for you, and Heaven is pulling you. You have the push of the cross, and the pull of Heaven.
We do not have to look for the motivation to become like Jesus. We have it. It's the bloody cross. We honor His sacrifice first, and then we have something to look forward to. We look back and forward. There is the prize. I'm headed toward Him.
Here's the question that I want you to think about: What is the dragon that stands between you and reaching your spiritual goals?
Let me clarify, I don't want you to talk about some other person. I want you to make this personal, internal.
For some of you the dragon is not something material; it's something intangible like the fact that you're always in a hurry. You're always moving from one thing to another. Your dragon might just be your pace. You can't take the time to open God's love letter to you. He sends you a love letter, and you can't slow down long enough because other things are more important.
Have something to say about this article? Leave your comment via Facebook below!
advertise with us
Example: "Gen 1:1" "John 3" "Moses" "trust"
Advanced Search
Listen to Your Favorite Pastors