Slaying the Dragon: The Journey Of The Slayer
Kenny Luck, Founder, Every Man Ministries
Thursday, March 21, 2013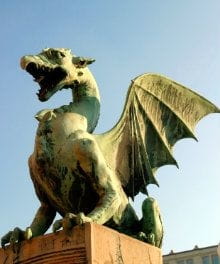 Remember when Paul says: "I count everything else loss in view of knowing the surpassing greatness of knowing Christ Jesus my Lord. When I talk about what dragon stands in your way, think about what gets in the way of your relationship with God. It could be an attitude, an action, or a perspective. Maybe you're in a hurry.
It is a daily preoccupation. Become like Christ to filter your life. Everything that is happening to you right now, all the events leading up to now, God is using to forge character in you.
That's what the Bible talks about in Philippians 1:6, "being confident of this, that He who began a good work in you will carry it on to completion until the day of Christ Jesus."
You know your destination. The dragon you have to slay is sin in every form. Anything that hurts your relationship with God and other people, God says — amputate it. If not, it will be a drain on your life. Help yourself out. Don't experience a living hell. The picture is we are running a marathon and we don't need any extra weight on us.
What's our motivation?
The push of the cross and the pull of Heaven; this is what Paul and Jesus are talking about.
Listen to the red letters of your Bible in John 15:13, when Jesus is pushing His guys. He is seeding their motivation for what they are going to have to endure when He's gone.
In John 15:13, it says: "Greater love has no one than this that he lay down his life for his friend."
That's the push of the cross in every follower of Jesus. Paul says in Philippians 3:10, "That I may know Him, and the fellowship of His sufferings."
What does that mean? If I'm willing to become like Him, then I have to be willing to sacrifice in order for God's purposes to be realized in my life. That's the life of God's man.
It's not a very comfortable life, because you're making decisions against comfort, feeling, and culture to win God's purposes manifested in your life. As you do that, as you win each consecutive battle — oftenon a daily basis — you begin to become more like Christ.
There is also the pull of Heaven and that's what Paul talks about in verse 14 of Phil. 3. "I press on toward the goal to win the prize for which God, through Jesus Christ, is calling us."
When we get to heaven, there are words that we want to hear. We find them in Luke 19:17, "Well done my good servant."
Why do you think we celebrate communion? We have the pull of Heaven and that is why Paul says: "…and may be found in Him."
When our heart stops, the Bible says that to be absent from the body is to be present with the Lord. You don't know how much time you have left, but you want to hear those words when your time is done.
What does "well done" mean?
You became like Jesus. You slayed the dragon. You conquered the dragon ruining your relationships. You conquered the dragon of immaturity. You followed His will. You made the sacrifice. You went to the counselor. You confessed your sin. You believed He was working even in your failure. You listened to the word of God and the Holy Spirit, and you sacrificed and became like Christ. That's the journey. All of us are on this quest.
We are going to talk to God. I asked you a question earlier in this series, to ask yourself what is the dragon that you need to slay? All of us have dragons. Some are big. Some are small. Some are obvious.
Whatever it is, God is calling you to slay it today.
Some of you heard me talk about the hurry in your life. You are in such a hurry that you can't slow down to have a relationship with God or a quality relationship with people. That's the dragon you need to slay, and you need to slay it by slowing down for a minute. You need to trust that your schedule is not as urgent as your need to be with God. Quietly, humbly, and eagerly, expect Him to meet you in His word. That's a dragon that most of us need to slay.
Have something to say about this article? Leave your comment via Facebook below!
advertise with us
Example: "Gen 1:1" "John 3" "Moses" "trust"
Advanced Search
Listen to Your Favorite Pastors