Spidey Sense: Jeff Dunn Discusses Spritual Insights from the Spider-Man Movies
Shawn McEvoy, Managing Editor, Crosswalk.com
Thursday, October 14, 2010

So again, here is Jesus. I am not saying that Aunt May is Jesus, but we are seeing glimpses of Jesus through Aunt May saying, "You know what? It is going to be okay. I am going to be there with you. I am going to walk through this with you."
When Peter comes and says, "The Sandman who killed Uncle Ben is dead and Spider-Man killed him. Aren't you glad, Aunt May?" Aunt May says, "No, and Uncle Ben would not be either." Again, we are coming back to the principle of love. Aunt May is the one character throughout all three movies who portrays love the very best, and not a schmaltzy kind of love, but the foundational love that we can build our life on.
CW: Is it important for youth to identify spiritually with their heroes, whether real or fictional?
JD: Oh, absolutely! Absolutely it is because they say, "Okay I am supposed to be like Christ... Where is he? I don't see Him." But, I can go to the movie, and I can see Spider-Man. I can go to the movies and I can see Ironman. So I think it is very important that youth find people in movies, in music, and in sports with whom they can identify. And it is not always the person who is (this is going to come across wrong, but I will just say it) spouting "Christianese." It is not always the person who is just talking the talk. Again, we see little glimpses of God here and there. If our eyes are open, we will see him.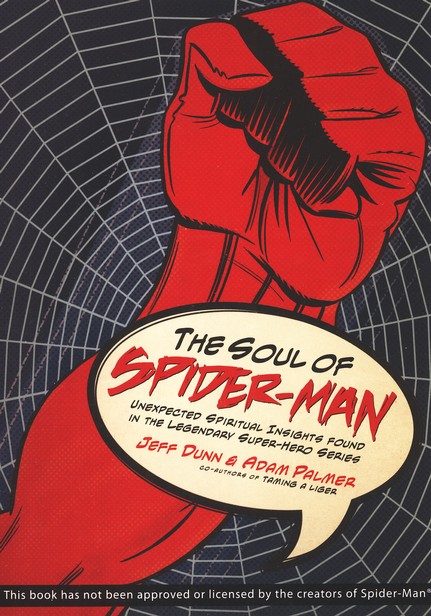 And yes, I think it is very important that youth have these people that they can look up to. I also think it is important that the Church not dissuade them just because a movie is rated PG-13, or there was violence in it or that there was sex in it or something like that.
In Ironman, Tony Stark is not Jesus, but look at his story from the very beginning: his heart is destroyed, so he has to get a new heart. Once he has that new heart, he now has a new life, and he has a new purpose in life. Hello! [Laughs.] That will preach all day long. And yet we have preachers who say, "Well, Tony Stark cannot be your hero because he is a womanizer, because he drinks, and because he drives fast." I do one of those three things. [Laughs.]
CW: So then what do you hope a young person who reads The Soul of Spider-Man will take away from it?
JD: I hope that it causes them to hunger for a life that walks with Christ in a very real way. I hope it strips away religion and "Christianese" from them. I hope it gets them to see that God has entered our world in a very real way.
Here's what I hope -- I hope that they come away from it saying, "You know what? I bet if Jesus were still here on earth physically, that he would have been at the Spider-Man movie with a bucket of popcorn, enjoying it just as much as I did." That is what I hope they come away with.
Jeff Dunn has been involved in mass media—primarily radio and publishing—for more than 34 years. He worked at the first commercial contemporary Christian radio station (KCFO-FM) in Tulsa, Oklahoma, and taught radio broadcasting at both the high school and college levels for 15 years. Jeff was an editor with TulsaPeople and Charisma magazines, and the founding editorial director of RiverOak Publishing. Now a literary agent in the Winters Agency, Jeff represents both fiction and non-fiction authors who publish mostly for Christian readers. Jeff is the author of several books, including the TH1NK imprint bestseller taming a liger: unexpected spiritual surprises in napoleon dynamite. He has ghostwritten a number of other books for well-known authors. Jeff and his wife of 27 years, Kathy, live with their three children and one border collie in Tulsa, Oklahoma. Jeff is a diehard fan of the Cincinnati Reds and, though he does not like to admit it in polite company, of the Cincinnati Bengals.
Publication date: October 15, 2010

Have something to say about this article? Leave your comment via Facebook below!
advertise with us
Example: "Gen 1:1" "John 3" "Moses" "trust"
Advanced Search
Listen to Your Favorite Pastors