8 Ways God Speaks to Us Today
Rebecca Barlow Jordan
Wednesday, July 11, 2012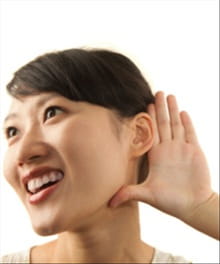 3. Through Nature and God's Creation
"For since the creation of the world God's invisible qualities–his eternal power and divine nature–have been clearly seen, being understood from what has been made, so that men are without excuse " Romans 1:20, NIV). Through the intricate details and magnificent beauty of all that God has made, we can "hear" His voice. How? By observing the ant's strength to store up food all summer long, we learn about wisdom and industriousness. By studying the heavens, we understand more of God's greatness. And through planting and growing a garden, we "hear" about miracles of death and rebirth. God designed–and spoke them all into existence.
4. Through Other Believers
God may use a friend, a teacher, a parent, or a preacher to convey His message of truth to us. Their words may come as a warning, a blessing, or as a prophetic truth about our lives.Whether we choose to hear it or ignore it, depends on us. Do their words line up with Scripture? Will God confirm or affirm that truth in us? "The wisdom that comes from heaven is first of all pure; then peace-loving, considerate, submissive, full of mercy and good fruit, impartial, and sincere" (James 3:17, NIV).
I've "heard" God speak to me numerous times through other people. A good friend once cautioned me about flirting with danger. Words from a speaker or Christian author have both challenged me and convicted me at times. And I've "heard" God talking to me through my own children as their pure and honest words cut clear to my heart and spirit, reminding me of God's true priorities.
All these things may not sound to you like ways of "hearing God's voice," but it's possible to reduce God to our own image if we insist on Him acting or reacting a certain way. God is bigger than that. He once spoke through a donkey (Numbers 20:28). Why then, can't He speak through anyone at anytime or in any way He wants to?
Bottom line is that if we are His children, God loves us unconditionally and will spare no expense to show us. Our part? Believe Him!
Hearing His "audible" voice would no doubt cinch His reality in an awesome way. But I've never heard God through an angel's message. I have no taped recordings to tell you what God sounds like. But I have heard God "speak" through the above ways–and in a few more. Read on.
5. Through Music
Perhaps one of the ways I can sense God's presence the most and "hear" His voice the best is when I am praising Him through music. Maybe it's because in times of depression and difficult trials in the past, I would pour over David's songs in Psalms, often singing them back to God with my own tunes. Praise brings me instantly to attention, like a sergeant's command to his soldiers. The words and the notes bring a soothing comfort, excitement, and passion that open my ears and heart and lift my spirits immediately.
In 2 Chronicles 20, King Jehoshaphat faced a huge army of enemies who could have easily destroyed His people, but he did a strange thing. With a declaration that his eyes were on God, he sent in a choir of praise singers: "Jehoshaphat appointed men to sing to the LORD and to praise him for the splendor of his holiness as they went out at the head of the army, saying: 'Give thanks to the LORD, for his love endures forever'" (2 Chronicles 20:21, NIV).
Recently on Spiritual Life
Have something to say about this article? Leave your comment via Facebook below!
advertise with us
Example: "Gen 1:1" "John 3" "Moses" "trust"
Advanced Search
Listen to Your Favorite Pastors