A Gift of Faith for the Graduate: God's the Glue
Pat Williams & Karen Kingsbury, Authors, Forever Young: Ten Gifts of Faith for the Graduate
Wednesday, June 08, 2005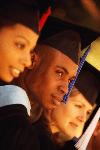 If youÕre going to hold on to the enthusiasm you have for life today, if youÕre going to hold on to the dreams and delight of today, youÕll need to know one thing for sure: GodÕs the glue.
Only a relationship with Jesus Christ will allow you to keep your childlike heart, the joy and hope you carry with you today. If you donÕt have that assurance of salvation, find it. Take a look at the Bible, read the book of John, connect with a Bible-believing church, and dive into the wonderful world of faith in Christ.
Get this part right, and the next nine principles will be a lot easier.
The following sections tell about adults who are living life still young at heart, adults who know that their faith is the basis for that youthful life.
Give God the Title Deed
The late Dr. Bill Bright, founder of Campus Crusade for Christ, often referred to a decision he and his wife made in the spring of 1951. It was a decision to becomeÑas Bill liked to say itÑslaves to Jesus Christ. Total, absolute, sold-out, surrendered slaves to Christ.
ÒWe wrote and signed over the Ôtitle deedsÕ of our lives to Him, and a day later God gave the two of us a vision for the Campus Crusade ministry.Ó
The way Bill viewed it, after deciding to live for Jesus Christ, he was no longer his own. Rather he had been bought with a priceÑthe price of ChristÕs blood shed on the cross. Bill would tell people, ÒIf God can create and rule the universe, think about what He can do for us and through us, if we ask Him to do so.Ó
Every day after that decision, Bill Bright would get down on his knees and give gratitude and praise to Jesus for being his Savior. He would tell the Lord, ÒJesus, I want to be close to You. Walk in my body, think with my mind, love with my heart, speak with my lips. Do whatever You want in and through me. Take my attitudes, my motives, my words, my actions, my desires and orchestrate them by Your Holy Spirit.Ó
Forever Young in War
In the warm dawn hours in Iraq that April day in 2003, NBC news correspondent David Bloom grabbed his phone and played back his messages. Halfway through the recording was a long message from Jim Lane, a New York financier. It had become habit for the men to share a daily long-distance devotion using Oswald ChambersÕ classic book, My Utmost for His Highest. Lane read the message for April 5, an inspirational piece taken from Matthew 24. ÒBecause of what the Son of Man went through, every human being can now get through into the very presence of God.Ó
BloomÑwho had been sitting in a modified tankÑthen climbed out, took a few steps, and collapsed, dead instantly. Less than a minute later, he was experiencing the reality of Matthew 24Ñfinding his way through to the very presence of God.
BloomÕs death was a devastating shock to his family and the nation. He was regularly watched by millions of viewers as he traversed across the desert, covering the story of the war in Iraq. At age thirty-nine he was a prime example of living forever young, of realizing that GodÕs the glue if youÕre determined to hold on to the excitement of youth.
For there was a side to David Bloom, TV correspondent, that the nation did not see. David was a devout believer in Jesus Christ. He grew up in the church, but two years before his death, he truly came to a saving knowledge of Jesus, a knowledge that started his greatest journey of allÑhis journey into eternal life.
Recently on Spiritual Life
Have something to say about this article? Leave your comment via Facebook below!
advertise with us
Example: "Gen 1:1" "John 3" "Moses" "trust"
Advanced Search
Listen to Your Favorite Pastors