A Gift of Faith for the Graduate: God's the Glue
Pat Williams & Karen Kingsbury, Authors, Forever Young: Ten Gifts of Faith for the Graduate
Wednesday, June 08, 2005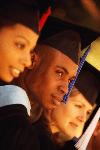 Meeting God Weekly
Bloom joined a weekly menÕs discipleship group founded by Jim Lane. While attending meetings, he developed friendships with some of the great men of the Christian faith, including Chuck Colson, founder of Prison Fellowship. During that time, it was clear to all who knew him that Bloom had a hunger for God that demanded he continue studying the Bible.
On the day he died, friends say Bloom was in a very good place, at peace with himself, his family and his God. That peace was evident in the last message he sent his wife. ThereÑin the midst of a battlefieldÑDavid BloomÕs own mortality was evidently on his mind.
Bloom wrote, ÒWhen the moment comes, in my life, when you are talking about my last day, I am determined that you and others will say, ÔHe was devoted to his wife and children; he was admired; he gave every ounce of his being for those whom he cared most about . . . not himself, but God and his family.ÕÓ
The lasting image of David BloomÑone that will remain in the memories of his family and the American publicÑwas that of a youthful man, bouncing across the Iraqi desert, poking his head out of an armored tank. His dirt-streaked face and wind-blown hair did nothing to cover the sheer exuberance of his living life to the full, at peace with God and himselfÑa picture of a life lived forever young.
Jesus, Anyone?
Resolve that youÕll live your life in a way that other people will know about your faith. If they spend any significant amount of time with you, theyÕll see your actions or hear your conversation or become aware of your convictions, and your faith will be as obvious as the rising sun.
It was important to Brian Vahaly, internationally ranked tennis player, that people saw him as a Christian. ÒI wanted them to see the way I lived and because of that, to trust me!Ó As the trust grew, Vahaly would have an opportunity to share his faith. How did he do that? Whenever he roomed with a teammate or traveled with one, he saw it as a chance to make a difference in someoneÕs life. Tennis can be a great avenue for telling someone the truth!
The faith-walk that keeps a person young, will also keep a person eager about sharing his faith. Who in your life today needs to hear the good news about Jesus? Be willing to share your faith with your friends.
I Never Thought of That
YouÕve made it through school, youÕve graduated, and you probably have the next goal in mind. But there are a few things you may not have thought about:
Bill Selby of the St. Louis Cardinals says that the amazing thing about being a Christian and growing closer to the Lord is that the more we mature as Christians, the more we see how far away we are.
ÒI know God is shaping every inch of my life,Ó Selby has said. ÒHeÕs allowing me to see where I stand with Him and how thankful I am that HeÕs selected me to be His child.Ó
Likewise, most people donÕt think about their dream job as anything other than a job or a career. Not NFL quarterback Kurt Warner. He sees his job as a platform.
ÒGod has given me an unbelievable platform that reaches an enormous amount of people,Ó he says.
Recently on Spiritual Life
Have something to say about this article? Leave your comment via Facebook below!
advertise with us
Example: "Gen 1:1" "John 3" "Moses" "trust"
Advanced Search
Listen to Your Favorite Pastors