A Gift of Faith for the Graduate: God's the Glue
Pat Williams & Karen Kingsbury, Authors, Forever Young: Ten Gifts of Faith for the Graduate
Wednesday, June 08, 2005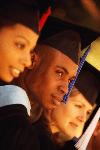 Presidential Power
President George W. Bush makes no apology for his faith-based leadership. In their book on the president, Carolyn B. Thompson and James W. Ware include a quote that sheds light on the manÕs deep, abiding faith.
ÒI could not have been Governor if I didnÕt believe in a divine plan that supersedes all human plans. Politics is a fickle business. Polls change. TodayÕs friend is tomorrowÕs adversary. People lavish praise and attention. Many times it is genuine, and sometimes it is not.
ÒYet, I build my life on a foundation that will not shift. My faith frees me. It frees me to put the problems of the moment in proper perspective. It frees me to make decisions that others might not like. It frees me to try to do the right thing, even though it may not poll well.Ó
Bible Biggie
One way to stay young is to walk in perfect faith. IÕm not talking about perfect performance, because none of us will be perfect. But if your faith and trust, your belief and hope in Jesus are right, everything else will fall in place.
Read these words that shout at us from the pages of Isaiah 43:2Ð5 (NASB).
When you pass through the waters, I will be with you; and through the rivers, they will not overflow you. When you walk through the fire, you will not be scorched, nor will the flame burn you. For I am the Lord, your God, The Holy One of Israel, your Savior; . . . since you are precious in My sight, since you are honored and I love you, . .  do not fear, for I am with you.Ó
God did not say the rushing waters wouldnÕt come. He did not say we wouldnÕt see the flames or feel the heat. Instead he said in the rising waters, He would be with us. He said in the middle of the fire, he would be with us. He provides for us in times of need.
Want some good news? Nothing surprises God, nothing catches him off-guard. He knows exactly what heÕs going to do in every situation. God is never befuddled by any situation, no matter how hard or desperate it seems to us.
I have a pastor friend in Atlanta, Johnny Hunt, who says, ÒDid it ever occur to you that nothing ever occurs to God?Ó
Faith means believing that even when we canÕt see the way from here to there, God is in control. End of story. Believe it, live like you believe it, and youÕll be on your way to capturing a view of what itÕs like to live forever young.
Rev Up the Race Car
How can you rev up the engines of your spiritual lives? Very simply, you must pray. Prayer is our act of talking to God. When we donÕt pray, we walk through life with our greatest friend at our side, never talking to him.
Race car driver Scott Sharp once said, ÒI spend some time in prayer every day of my life; not just when IÕm driving race cars. I donÕt know how other people who arenÕt Christians, who donÕt have a relationship with God, can handle all the distractions, pressures and concerns.Ó
Prayer is like a pressure reliever. You give your troubles and fears and concerns to God in prayer, and he is more than happy to take them.
ÒWhere do the worries go for the people who donÕt pray?Ó Sharp said. ÒItÕs unbelievable to me, to leave those things to Him. That makes me think so much clearer and so much freer.Ó
Recently on Spiritual Life
Have something to say about this article? Leave your comment via Facebook below!
advertise with us
Example: "Gen 1:1" "John 3" "Moses" "trust"
Advanced Search
Listen to Your Favorite Pastors