A Gift of Faith for the Graduate: God's the Glue
Pat Williams & Karen Kingsbury, Authors, Forever Young: Ten Gifts of Faith for the Graduate
Wednesday, June 08, 2005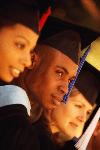 PatÕs Perspective
I grew up in Wilmington, Delaware, and from the time I was a small boy, I attended church and Sunday school on a regular basis. I even went to a Baptist college, Wake Forest University, in North Carolina. However, it was not until I was twenty-seven years old that I realized that I wasnÕt a Christian and needed to make a decision to accept Jesus as my Savior and Lord.
I made that decision on February 22, 1968, in Spartanburg, South Carolina, and my life changed dramatically. For the first time I realized my sins had been pardoned and there really was a purpose for my life. GodÕs peace flooded my soul and his power has undergirded me every day since.
As a Christian, my life has not been perfect. I have had many difficult experiences along with many triumphant moments. However, through it all the Lord has been the centerpiece of my life and has never left me or forsaken me.
I often tell young people that when you make a decision for Christ, he gives you an abundant life here on earth and an eternal life after you take your last breath. Everything we do on earth lasts for just a short time, but it gives us an opportunity to practice getting ready for our life in heaven where we will spend trillions of years.
ThatÕs an exciting way to live your life now and the first-class way to go into your forever life in heaven.
v
The Bible is my daily map. ItÕs GodÕs word.
ThereÕs so much wisdom there, that you
have to read it on a daily basis.
ÑTim Salmon, Anaheim Angels
y
I confess my sins as I exhale, and I receive GodÕs grace and forgiveness with every inhalation.
ÑBill Bright, founder of Campus Crusade for Christ
y
ThereÕs no way of knowing the peace that
comes from experiencing GodÕs plan for your life,
until you recognize the importance of close,
consistent fellowship with Jesus Christ.
ÑBob Estes, pro golfer
y
Whoever is on GodÕs side is on the winning side
and cannot lose. Whoever is on the other side is on the
losing side and cannot win. Here, there is no gray area . . . no gamble. There is freedom to choose which side
we shall be on, but no freedom to negotiate the
results of the choice, once it is made.
ÑA. W. Tozer, author and pastor
If you say you know ChristÑwithout changingÑ
you should question who you know.
ÑAnne Graham Lotz, speaker and author
y
I didnÕt go to religion to make me happy.
Recently on Spiritual Life
Have something to say about this article? Leave your comment via Facebook below!
advertise with us
Example: "Gen 1:1" "John 3" "Moses" "trust"
Advanced Search
Listen to Your Favorite Pastors