A Place for the King: The Biblical Foundation for Worshiping Jesus
Jack Hayford, The Living Way
Friday, July 29, 2005

But we speak the wisdom of God in a mystery, the hidden wisdom which God ordained before the ages for our glory, which none of the rulers of this age knew; for had they known, they would not have crucified the Lord of glory. ~~ I Corinthians 2:7-8
There, at the cross, where Satan thought he had once again succeeded in expanding his "principalities and powers," the Bible says he was disarmed by Jesus who triumphed over them, making his kingdom of darkness into a "public spectacle" (see Colossians 2:15).
Not only does Jesus win victory over death on the cross, but by the power of His resurrection, He becomes the seed that, having fallen into the ground and died, then begins to bear fruit. All over the planet, He begets people who receive the power of His life and begin to come alive with dominion possibility, bringing the rule, power and presence of God to all the earth. No longer does man have to labor in the power of his flesh; now, the power of the Kingdom of God is "at hand" (Mark 1:15).
Stage 6: A Godly Habitation
Jesus prepares the Church to be a temple of living stones.
The Lord is now ready to build His people into a dwelling place for His presence. Jesus has prepared the Church to be a temple built of "living stones"—that's you and me! When we gather together, we become a place for God to dwell and for the dominion of His Kingdom to be established; the King is literally "enthroned" in our praises (Psalm 22:3). When we worship, God will come and dwell with us, with all the weight of His glory, His rulership and His dominion.
In this atmosphere—where worship ushers in the presence of God—four critically important things take place. First, the Word becomes incarnated in people; it becomes life, not just an intellectual exercise. Second, people are healed in the ongoing pattern of God's presence. Third, they come to know the Lord as His Kingdom is established. And, finally, as God empowers His people, their worship crowds out the borders of hell's domain.
When we come together in a worship service, God's people are built up as a habitation for His presence, as the "living stones" of His temple. Through our worship, an intimate and vibrant relationship with the living God is made possible: His assignment for us as His "royal priesthood" is restored; we become ministering agents of His resurrection life to the world; and we are enabled to move in the expanding dominion and rulership He intended for humankind from the beginning.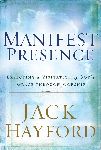 Excerpted with permission of Chosen Books, a division of Baker Publishing Group, Grand Rapids, MI. © 2005, Jack Hayford. All rights reserved. You can order a copy of Manifest Presence at www.christianbook.com. Visit Jack Hayford's website here: www.jackhayford.com
Recently on Spiritual Life
Have something to say about this article? Leave your comment via Facebook below!
advertise with us
Example: "Gen 1:1" "John 3" "Moses" "trust"
Advanced Search
Listen to Your Favorite Pastors