A Warning to the Complacent
T. M. Moore, BreakPoint
Thursday, December 28, 2006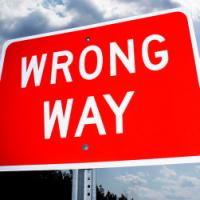 "Note then the kindness and severity of God: severity toward those who have fallen, but God's kindness to you, provided you continue in his kindness. Otherwise you too will be cut off." (Romans 11:22)
Ornithologists tell us that not every baby bird survives the ordeal of the nest. In a clutch of three eggs, often at least one of the chicks will die and be cast out of the nest. The reasons are mysterious, but what they boil down to is a kind of failure to thrive.
Similarly, Jesus warned that not everyone who shows up before Him on the day of judgment, thinking he's got a free pass to eternal life, will make the cut. Though he professes Jesus to be his Lord, and pleads his abundant activism for Jesus' name, he will be stunned and disappointed when the Lord says to him, "Depart from Me; I never knew you" (Matthew 7:21-23).
It is likely that many Christians today are looking to the wrong things as evidence of their salvation. What do we regard as the marks of true and saving faith? Typically, we want to hear some kind of profession ("Lord, Lord"), and we expect that profession to be validated by some sort of involvement in the life of the faith community ("Have I not sung in the choir, taught Sunday school, served on numerous committees and in a variety of programs, and even been an officer?"). The latter, we admit, is not essential; it's enough that they claim to believe in Jesus. However, James 2:14-26, whether in ourselves or in our fellow believers, as to the genuineness of our faith.
So if there is a testimony and some evidence of Christian activity, these are enough for us to believe that we and our neighbors are safe in the grace of the Lord. Or are they?
What may be missing is a deep-seated failure to thrive in our souls, a lack of any truly personal relationship with Jesus, or love for Him, that we cleverly disguise and suppress by the memory of our profession and the hectic pace of our Christian activities. Thinking that we are alive and well, simply because we're in the nest along with all the other chicks, we nevertheless fail to engage in the fundamental practices that can guarantee we will come to maturity and fruitfulness as the offspring of the Lord. Then, one day, our failure to thrive catches up to us, and we simply bail out of the nest of the Church, give up our faith in any real active sense, and hurtle to the earth to languish and die, separated from the grace of the Lord. Or, we may just dawdle along in the nest in perpetuity, thinking all is well, not realizing that we're dying or dead without ever having lived.
The Apostle Paul warns any who may be complacent in his faith that he must persist in the kindness of God or he will surely fall from His favor.
Where God Meets us in His Kindness
The kindness of God meets us consistently and abundantly, every day of our lives. The sense of the verb "continue" (or "persist") indicates that effort is called for on our parts so as to ensure that we will remain in God's kindness and come to maturity in the Lord. That effort begins with understanding where the Lord in His kindness meets us. We may identify six arenas:
First, there is the

memory of our conversion

. Certainly God in His kindness met us at the point of our first coming to know Him. He sought and stalked us; sent His witness to confront us; drove back the spirit who was blinding us; sent His own Spirit into our hearts; gave us a new mind and a new heart, enabling us to understand and believe the Gospel; and even brought out from us that first cry of "Abba! Father!" indicating that we had been born again as one of His children (Galatians 4:6). It is good for us to revisit the time of our conversion, and to celebrate it in prayer and worship (Psalms 77:11-12).
Second, God meets us with His kindness in the

daily provision of His steadfast love and faithfulness

. By His kindness God upholds us in every part of our lives (Colossians 1:17). We could not draw a breath, hear a sound, wake from sleep, or do or know any of the myriad things we take for granted each day were it not for God's constant shepherding care over all the details of our lives. Moreover, His Spirit attends to us constantly, making sure that we are not alone in the battlefields of spiritual warfare, comforting and teaching us, empowering and guiding us at all times (Psalms 139:7-12). We, however, are normally too busy to reflect on such things, and end up taking them for granted. But to persist in the kindness of God we must make time to meditate and reflect on His steadfast love and faithfulness, so that we will rejoice in Him and grow to love Him more.
Third, God's kindness reaches to us

as He speaks to us from His Word

, making known to us the mysteries of our salvation and of the divine economy into which He has brought us for the purpose of glorifying His holy name (Ephesians 1:3-14). We persist in the kindness of the Lord when we make ample time for listening to Him as He speaks to us from the Scriptures. He also speaks to us through the works of His hands, in the things of His creation manifesting His wisdom, power, goodness, beauty, and kindness toward us in so many ways (Psalms 19:1-4). We, however, are so accustomed to the familiar sights and sounds around us that we scarcely ever take the time to contemplate these works of the Lord, in order to discover Him revealing Himself in them, and drawing us deeper into His kindness.
Fourth, God's kindness reaches us in the

special blessings of life

, where His covenant faithfulness superabounds toward us. Our spouses and children, talents and treasure, jobs and possessions, opportunities for growth and service, friends, special occasions — all these and more are blessings from the hand of God that produce special and enduring memories, causing us to rejoice and give thanks, and to recall the kindness of God.
Fifth, God shows His kindness toward us as He

grants us audience and hears and answers our prayers

. God does not need us (Acts 17:4). Yet He delights to receive us into His presence and, as we present our praise and supplications, to shower us with pleasures and gifts with which nothing can compare (Psalms 16:11). Jesus Himself joins His intercessions with ours, and the Holy Spirit helps us in ways more mysterious than we can describe, as God in His great kindness gives us His full attention there in the very throne room of grace (Hebrews 7:25; Romans 8:26-27; Hebrews 4:14-16). O what abundant kindness of God awaits us as we come humbly before Him in prayer! No wonder the psalmist, panting like a thirsty doe, cried, "When shall I come and appear before God!" (Psalm 42:2)
Finally, God meets us in His kindness when

we in kindness reach out to others in God's name

. It is not we who perform the good works that are the evidence of a true and lively faith. This is God at work within us, willing and doing according to His good pleasure (Philippians 2:12-13). We must cooperate with His indwelling Spirit, to be sure; but the joy we experience as we reach out to others, and the kindness by which they are helped, are the joy and kindness of the Lord, for which we must give Him the honor and glory.
Persisting in God's Kindness
Paul commands his readers to "persist" in the kindness of God; if they do not, they will fail to thrive as true believers, and will be "cut off" from the vine of the Lord, cast out of the comfortable nest, and lost. When a mother bird arrives at her nest with mouth or gullet full of nourishment, healthy chicks rise and strive and compete with one another to gain the fruit of her kindness toward them. She bestows her largesse on those that strive the best. Those that do not, though they look ever so much like their siblings, and even inhabit the same nest, will, in the end, fail to thrive, and will be cast out.
Recently on Spiritual Life
Have something to say about this article? Leave your comment via Facebook below!
advertise with us
Example: "Gen 1:1" "John 3" "Moses" "trust"
Advanced Search
Listen to Your Favorite Pastors