An Interview with Oliver North: Part 1
Janet Chismar, Senior Editor, News & Culture
Monday, October 06, 2003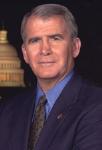 Oliver L. North is a combat decorated Marine, the founder of a small business, a syndicated columnist, the host of a nationally-syndicated daily radio show and the host of "War Stories" on the FOX News Channel, yet claims his most important accomplishment as being "the husband of one and the father of four."

Born in San Antonio, Texas, North graduated from the U.S. Naval Academy in Annapolis, Maryland, and served 22 years as a U.S. Marine. Assigned to the National Security Council Staff in the Reagan administration, Colonel North was the United States government's Counter-Terrorism Coordinator from 1983-1986 and was involved in planning the rescue of medical students on the Island of Grenada. He also played a major role in the daring capture of the hijackers of the cruise ship Achille Lauro. After helping plan the U.S. raid on Muammar Gaddafi's terrorist bases in Libya, North was targeted for assassination by Abu Nidal, one of the world's deadliest assassin.

His first two books, Under Fire and One More Mission were international best sellers. His latest book, Mission Compromised also rose to the New York Times best-seller list and was the number one fiction best seller in the month of September for LifeWay Christian Stores.

In his interview with Crosswalk.com, North discusses his experiences in Iraq, his new book and approaches to terrorism.
Crosswalk: One of the things I wanted to talk to you about is your time in Iraq. What spiritual lessons did you learn there, and how has God used that experience to grow your relationship with Him?
North:   I survived the experience, which is ample evidence – and I've seen it so many times – of God's power to intervene in my life. Getting shot up a lot and actually shot down once in the helicopter without anyone getting hurt is a vivid example of the power of prayer. Those kinds of experiences remind me even more vividly of His sovereignty.
Crosswalk.com:  What was the most difficult thing you experienced or witnessed in Iraq?
North:   Oh, just keeping up with 19-year-old kids. There were a couple of times on the special we put together for FOX, when you can hear me huffing and puffing to keep up with these youngsters. A firefight would erupt not too far from where I was standing, so you'd have to run a couple hundred meters. I'm in fairly good shape, particularly for a guy my age, and I'm still huffing and puffing. One of the sergeants, you can hear him off camera saying, "Hey, Colonel, you all right?" So I said, "Yea, why?" "Cause you're sweatin' like a hog."
Crosswalk.com:  You'd just had basic training all over again!
North:  Yeah, I did. But I think for a lot of my contemporaries, fellow journalists who were out there in combat for the first time, the idea of seeing men hurt and killed right there in front of you, was the hardest thing. Don't get me wrong, I don't think anyone's ever really been to a war ever gets over that kind of thing, but the awareness beforehand that it's going to happen, makes it a little easier. It brings home to you that war is about the most awful thing that man does to himself, yet in the midst of it, you see some very, very inspiring things.
Recently on Spiritual Life
Have something to say about this article? Leave your comment via Facebook below!
advertise with us
Example: "Gen 1:1" "John 3" "Moses" "trust"
Advanced Search
Listen to Your Favorite Pastors