An Interview with Oliver North: Part 1
Janet Chismar, Senior Editor, News & Culture
Monday, October 06, 2003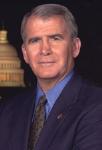 What I tell people, a young American soldier in that circumstance, before he went, wouldn't even share a candy bar with his younger brother. And yet, this is a kid who will give away his last drop of water to a wounded comrade, who will share his last meal with a hungry Iraqi kid, and who will share his ammunition in a firefight with his mates because he knows that's what expected of him. And so there is great inspiration that even old soldiers like me can take from those kinds of experiences.
Crosswalk.com:  Would you do it again?
North: Well, in fact, FOX wants me to do it again, so I'll probably go back out there before the end of the year. A lot of it is driven by what time I'm available –publishing schedules and book releases. I'll probably end up going back out there and living with the troops. I'm not big on living in Baghdad or Kabul. I don't think it ought to be about the journalist. I think it ought to be about those youngsters and letting people hear from them what it is that they are doing.
Crosswalk.com:  Transitioning to the topic of books, I wanted to talk a little bit about how The Jericho Sanction differs from Mission Compromised. Where does it pick up?
North:  A lot of people ask me at the end of Mission Compromised if Peter Newman makes it. Obviously, this is the sequel to that last book and explains how all of that happened and provides another exciting episode in the life of a guy and his wife who go through some very, very dramatic events. And even though it's certainly fiction and set in a very exciting genre, if you will, the kinds of circumstances that they confront are very much like those that the rest of us confront. It might not be quite as exciting in our day-to-day life, but it's all the same. Hopefully people will draw from it not just a great read, but maybe some inspiration for their own particular set of circumstances.
Crosswalk.com: That's a good segue to my next question, because I was going to ask, "Are there spiritual/moral lessons people can take away from reading The Jericho Sanction?"
North:  People ask me why I write about these kinds of things and why I put these kinds of people in the context that I put them in. I think it was Mark Twain who said, when he was asked why he wrote about certain things, "I have to write about the things I know." Well, I have to write about the things I know. I can't make them up, so I write about people I've known and kinds of events that I've experienced.
These really are the kinds of folks that we've got. I reported that youngsters out there in Iraq hold Bible studies. The fact that we've got folks who carry weapons and wear 3-pound helmets and 20-pound flak jackets but also carry Bibles, ought not to come as a shock to people – although, apparently, it does to a lot of my colleagues in the media. So, I'm hopeful that the American people, when they read books like this, take some kind of inspiration from it that we've got some really remarkable young people who have put their trust in the Lord. Peter Newman certainly comes to that conclusion and like a lot of us, sometimes it takes a two-by-four upside the head to get there.
Recently on Spiritual Life
Have something to say about this article? Leave your comment via Facebook below!
advertise with us
Example: "Gen 1:1" "John 3" "Moses" "trust"
Advanced Search
Listen to Your Favorite Pastors