Back to the Basics: Marriage as God's Design
FamilyLife Ministries
Thursday, July 08, 2004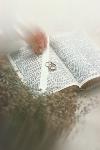 In addition, God set up the family as a nurture center where children grow up to learn character, values, and integrity. Psalm 78 instructs parents to teach their children to "... put their confidence in God and not forget the works of God, but
keep His commandments ..."
Male-male or female-female relationships cannot produce children unless something is done to assist them. While it is true that gay couples can raise children, and can adopt needy children ... they will not multiply a godly legacy when they are living in rebellion to God.
3. Mutually Completing One Another
Another of God's purposes for marriage is found in Genesis 2:18-24: Then the Lord God said, "It is not good for the man to be alone; I will make him a helper suitable for him." ... The Lord God fashioned into a woman the rib which He had takenfrom the man, and brought her to the man. The man said, "This is now bone of my bones, and flesh of my flesh; She shall be called Woman, because she was taken out of Man." For this reason a man shall leave his father and his mother, and be joined to his wife; and they shall become one flesh.
Adam was in isolation in the Garden of Eden, and so God created woman for him. In 1 Corinthians 11:11, the Apostle Paul echoes the teachings in Genesis 2 when he writes: "However, in the Lord, neither is woman independent of man, nor is man independent of woman."
Male and female were created to be complementary to one another in every way — from their emotional and spiritual needs to their anatomical structure. The physical act of a husband and wife becoming one within marriage is easily understood. They were designed by God for one another.
However, two men or two women were not designed by God to become one flesh with one another. The physical joining of two men or two women is not a natural act.
Speak the truth in love
As you interact, balance truth with love and compassion.
No doubt you have joined most of America in watching news footage of homosexuals coming out of the courthouse doors— new marriage license in hand — and celebrating their "marriage" with a big kiss for the cameras. How did that make you feel?
Now read instructions from Colossians 3:5-8: … consider the members of your earthly body as dead to immorality, impurity, passion, evil desire, and greed, which amounts to idolatry. For it is because of these things that the wrath of God will come upon the sons of disobedience, and in them you also once walked, when you were living in them. But now you also, put them all aside: anger, wrath, malice, slander, and abusive speech from your mouth.
This passage makes it clear that God's wrath is coming one day on those who are the sons of disobedience, those who practice immorality, and those who indulge in lustful passion. But without skipping a beat, it also instructs us to not respond to those practices with anger, wrath, malice, slander, or abusive speech.
Recently on Spiritual Life
Have something to say about this article? Leave your comment via Facebook below!
advertise with us
Example: "Gen 1:1" "John 3" "Moses" "trust"
Advanced Search
Listen to Your Favorite Pastors