Back to the Basics: Marriage as God's Design
FamilyLife Ministries
Thursday, July 08, 2004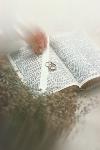 The Bible doesn't stop there. Colossians 3:12-14 tells us: So, as those who have been chosen of God, holy and beloved, put on a heart of compassion, kindness, humility, gentleness and patience; bearing with one another, and forgiving each other, whoever has a complaint against anyone; just as the Lord forgave you, so also should you. Beyond all these things put on love, which is theperfect bond of unity.
To be honest, the Christian response to the homosexual movement in our country has often not been Christ-like. Not only is God displeased, but also our views are easily dismissed when our opponents see anger and disgust rather than kindness and compassion. Try these two steps before you speak out on this issue:
Step One: Look in the Mirror
Before engaging homosexuals, ask for forgiveness for the things Christians have said, done, or thought about homosexuals.
Jesus is very clear in His instructions to us. Before we stand to address the sin we see in the life of another person, we need to spend some time in front of the mirror (Matthew 7:4-5 and Galatians 6:1-2).
The reality is, there is enough sexual sin present in the church today that we may find ourselves disqualified from being able to address sexual sin in others. A fresh look at our own sexual sinfulness should drive us to the foot of the cross, where we can again find hope and forgiveness. Now, as those who have received the grace of God, we are ready to offer it to others.
Step Two: Cultivate Compassion
Remember Jesus' encounter with a woman who was guilty of sexual sin? John 8:1-11 tells the story of the religious leaders who brought a woman to Christ who had been caught in the act of adultery. How did He respond?
First, He rebuked the self-righteous religious leaders; He knew that they were not motivated by compassion or kindness. He then turned to the woman and with humility and gentleness, granted her forgiveness, and exhorted her to holiness.
In the place of hearts that are full of anger and contempt for those who practice homosexuality, God wants to cultivate in us a heart for those who are living broken lives — whether they realize it or not. We are not ready to speak to this issue until our hearts are broken for the person who is caught in the snare of homosexual sin.
Remember the parable of the unmerciful slave? In Matthew 18:23-25, Jesus tells of a man whose master had forgiven a huge debt. This man then refused to forgive someone who owed him a little. Christ has forgiven us of our great sin. How can we do anything but to humbly hold out the same grace to others who are caught in sin?
In the months and years to come, some people who have either sampled or participated actively in homosexual activities will be looking for a way to deal with their shame and their guilt. They are going to be looking for a way out of the lifestyle. Would these people even think to look to the church for help?
Recently on Spiritual Life
Have something to say about this article? Leave your comment via Facebook below!
advertise with us
Example: "Gen 1:1" "John 3" "Moses" "trust"
Advanced Search
Listen to Your Favorite Pastors