Big Dreams and Bad Nightmares: How to Heal Your Future
Steve Arterburn, Author and Chairman of New Life Clinics
Monday, November 28, 2005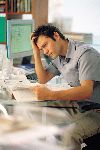 When losses are grieved we become more willing to listen and hear the truth. We're able to live through the vulnerability of connection, so we're less inclined to present ourselves as something other than we really are. The little lies that deflect people from the real life we're living are no longer required. We have no need to hide behind the old façades that protected us from hurt but prevented us from knowing the life God had for us.
The Big Lie
The big lie is that time will heal your deep wounds—that one day, if you just bide your time, you'll awaken and feel better. In fact, just the opposite is true. The longer we live with untreated wounds, the greater the potential for infection. We want to believe we just need time, but what we need is time well spent.

How you mark your time can be the most powerful healing choice you can make. Will you spend your time alone and hurting? If you do, there's not much chance that the wounded mind that got you there is going to help you out. That mind will just drive you further and further away from where you could be—from where God wants you to be. Refuse to believe or live in the lie that time is going to heal you.
Cleansing Power
The psalmist said, "I weep with grief; my heart is heavy with sorrow" (Ps. 119:18). He wasn't just shedding tears. He was cleansing his past and healing his future. He was letting go of what was and what might've been, and reaching for what is and what is to be. In this deep cleansing process we reach a point where we're able to let go of the past, of unmet expectations, and of a concept of God where He's supposed to protect us from all hurts and pain. In the deepest forms of grieving we let go and we find healing.
Healing is a choice. It's God's choice, but we can make choices that allow the healing He has for us to be manifested in our lives. Healing is a choice to let go of our past hurts by grieving them, and grieving is a choice to heal the future.
The above piece is an adaptation from Healing Is A Choice: Ten Decisions That Will Transform Your Life & Ten Lies That Can Prevent You From Making Them, by Steve Arterburn. Nashville: Nelson Books, 2005.

Stephen Arterburn is the founder of New Life Clinics, the largest provider of Christian counseling and treatment in North America. As host of the daily New Life Live! radio program, he is heard nationally on over one hundred and eighty stations and at www.newlife.com. Steve is the creator of the Women of Faith® Conferences and is the author/coauthor of over thirty books, including Healing is a Choice, Lose it For Life, The God of Second Chances, Every Man's Battle, and Avoiding Mr. Wrong.
Recently on Spiritual Life
Have something to say about this article? Leave your comment via Facebook below!
advertise with us
Example: "Gen 1:1" "John 3" "Moses" "trust"
Advanced Search
Listen to Your Favorite Pastors