Bromide Prayers and Safe Trees
Tim Kimmel, Author & Speaker
Wednesday, March 16, 2005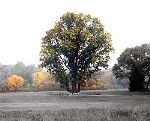 He was about two-thirds my size: hair: black, skin: a dark bronze. His eyes were tucked back below a prominent forehead but sparkled in compliment with his ear-to-ear grin. He was my "prayer partner" for the moment but I found myself looking around to see if there might be someone more "conventional" to spend the next half hour with.
I was in Amsterdam. Darcy and I had been invited to gather with 15,000 itinerant evangelists and Bible teachers from all over the world to sharpen our skills and network our efforts. Our host was Billy Graham.
There were the normal plenary events where passionate speakers followed corporate worship to challenge us in our calling. Then there were the breakout options that covered the gambit of needs that people who travel for the Lord tend to have. To double our efforts, Darcy and I decided to split up for the optional sessions and compare notes after we were back together. She was off to learn more about the administrative side of itinerant Christian work. I chose to learn about the power of prayer in ministry.
For about 45 minutes, the presenter shared great insights from the Bible as well as his personal experiences on how to make prayer an anchor tenant of our efforts for God. And then he shifted his lecture into a laboratory experience. He encouraged us to turn to the person next to us, exchange prayer needs, and then lift each other up before God.

That's how I ended up with the diminutive young man from Sri Lanka with the permanent smile on his face. As I recall, he was so anxious and excited to be able to pray with me, an American. Shamefully, I have to confess that I wasn't as excited to be with him.
It wasn't anything about him in particular that caused me to look to see if there might be another candidate to pray with. It's just that I...I...I didn't know why I didn't want to pray with him. I have to assume that deep down in my heart, I felt he had little to offer me. I was simply a prideful young preacher from America with more spending money in my pocket than this man saw in a year, and I didn't think there would be much for us to relate over. As it turned out, I learned that I wasn't worthy to carry his Bible for him.
He slid over a couple of chairs to be right next to me, shook my hand, and introduced himself. His English slipped off of his tongue with the heavy slur and accent distinctive to his region. He wanted to know all about me. When I told him about my wife and family, he wanted to see a picture. He asked specific questions about each member. And then he asked how he could pray for me.

I gave him the normal safe stuff you give to strangers or people you don't want getting too close to your insides. "Pray that God will give me open doors and open hearts. Pray that God will watch over my family in my absence." He listened. He wrote down every word I said under my name on the inside flap of his Bible.
Recently on Spiritual Life
Have something to say about this article? Leave your comment via Facebook below!
advertise with us
Example: "Gen 1:1" "John 3" "Moses" "trust"
Advanced Search
Listen to Your Favorite Pastors