Choosing Jesus at Christmas
Eva Marie Everson, Contributing Writer
Tuesday, December 07, 2004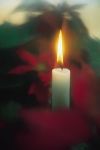 Thousands of years went by. The people of God had been "on again, off again" in their walk with El Shaddai, God Almighty. They were now political "prisoners" of the Roman Empire.

The year was about 4 BC.

A young Jewess, probably no more than twelve or thirteen years of age, was engaged
to be married to a Jewish carpenter named Joseph. She had chosen a life of being a
wife...and, one day, a mother.

According to tradition, one morning as Mary went to the only well in the town of
Nazareth where she lived with her family, an angel came to her and said, "You are
the favored one...God is with you."

Now, Mary could have chosen to run (I know I might have...), but instead she began
to converse with the angel.

"Don't be afraid, Mary, you have found favor with God. You will be with child and give birth to a son, and you are to give him the name Jesus. He will be great and will be called the Son of the Most High. The Lord God will give him the throne of his father David, and he will reign over the house of Jacob forever; his kingdom will never end."

God had chosen to send His Son in the form of a tiny baby boy, born to a girl and her husband in a town called Bethlehem, where they'd gone for a census taken by the Roman authorities.

What a glorious moment that must have been! Angels singing in the sky, "Glory to God in the Highest and on earth, peace to men on whom His favor rests." **

God's choice to love His children more than we can possibly comprehend had now revealed itself in the form of a child.

A Deeper Choice

Thirty-three years went by. The baby boy had grown to be a man...a teacher...a rabbi. Some called Him a troublemaker. Some called Him the miracle maker. Others called Him the long-awaited Messiah.

It was the time of the Passover. Jews from all over were coming toward Jerusalem. Jesus and His disciples were no different. They'd followed this path for as long as they could remember. The twelve with Jesus were surely exuberant. It would be a good time...a joyous time...a time of remembering.

But, for Jesus, the reflection was different. A new choice was to be made. The choice to lay down His life as a sacrifice...as a bridge by which men could cross over and reach the heart of God.

At times it must have felt as though His feet were weighed down with one of the large, jagged stones along the highway. His heart tightened in His chest. He smiled at those around Him...but at times, it must have been forced.

For days, He purposefully put Himself in the way of those He knew would turn on Him...try Him...convict Him...and, in the end, crucify Him. Day after day of that week He chose to push the envelope a bit harder than the day before.

One night, He chose to kneel in a garden...a garden called Gethsemane. He prayed to His Father...and He waited...waited for the sound of soldier's footsteps and the command of their voices. Waited for the dry touch of a traitor's kiss.

The following day, He chose to stretch out His arms as He hung high above His beloved city...and die. Scriptures tell us He could have called an army of angels to come and rescue Him...but He chose to go it alone.

My Choice/Your Choice

Recently on Spiritual Life
Have something to say about this article? Leave your comment via Facebook below!
advertise with us
Example: "Gen 1:1" "John 3" "Moses" "trust"
Advanced Search
Listen to Your Favorite Pastors