Christian Freedom: Grasping the Motivation to Love
David Jones
Wednesday, June 27, 2012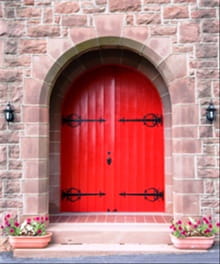 We should first mark Paul's opening note of confidence, "that he who began a good work in you will carry it on to completion until the day of Christ Jesus" (Philippians 1:6). Salvation is the Lord's doing, and the outcome is not in doubt. Paul now grounds his imperative (katergazesthe) in this primary truth, "for it is God who works in you to will and to act according to his good purpose" (Philippians 2:13). Your salvation is not a goal to be achieved by human effort but a gift bestowed by divine grace. Significantly, the imperative is in the present tense: "Go on putting your salvation into practice, go on actualizing your salvation." This fits with Paul's reference to the Philippians' established pattern of response: "as you have always obeyed."
We should also recall Paul's earlier prayer for motivation in the Christian life, "that your love (not fear) may abound more and more in knowledge and depth of insight." Fear and trembling is a stereotyped expression (it rhymes in Greek — phobou kai tromou) for proper respect (cf. 2 Corinthians 7:15, Ephesians 6:5). Here it refers to the awed reverence that comes from the realization that God (the word order in Greek puts the emphasis here) is the one working in us both to will and to act according to His saving purpose. J.B. Phillips' translation is right on the mark: Work out the salvation that God has given you with a proper sense of awe and responsibility. For it is God who is at work within you, giving you the will and the power to achieve His purpose.
Punishment versus Discipline
As there is a fundamental difference between the fear of terror and the fear of honor, so is there a fundamental difference between punishment and discipline. The goal of the Christian life is to be like Christ, the image of God. In the transformation process, "God disciplines us for our good, that we may share in his holiness" (Hebrews 12:10). Whereas punishment is the execution of God's retributive justice, discipline is the expression of His corrective love (Hebrews 12:6; cf. Revelation 3:19, "Those whom I love I rebuke and discipline"). Though the experience of discipline is never pleasant, it is endurable in the knowledge that in the long run it "produces a harvest of righteousness and peace for those who have been trained by it" (Hebrews 12:11).
Affliction thus has an entirely different face depending upon whether it appears as punishment or discipline. It is not too much to say that punishment and discipline are as far apart as God's wrath and God's love. Sinners rightly take refuge in Christ to escape the penal consequences of sin, but this is not the continuing motivation of the Christian life other than as a standing warning against apostasy. The message of Hebrews 12:4-11 is not, "If you sin, you will be punished," but "If you are a son or daughter, you will be disciplined." Though painful, discipline is welcome as the sign of God's love. Through it we are led to progressive obedience, not out of fear of the consequences but out of love for Him who first loved us.
David Clyde Jones is professor emeritus of systematic theology and ethics at Covenant Theological Seminary. Jones earned his B.A. at William Jennings Bryan College, his B.D. and Th.M. at Westminster Theological Seminary, and his Th.D. at Concordia Seminary, St. Louis.
This article originally appeared at byFaithOnline. Used with permission.
Publication date: June 27, 2012
Recently on Spiritual Life
Have something to say about this article? Leave your comment via Facebook below!
advertise with us
Example: "Gen 1:1" "John 3" "Moses" "trust"
Advanced Search
Listen to Your Favorite Pastors