Clinging to Hope in God's Promises
Dena Johnson, Dena's Devos
Thursday, June 05, 2014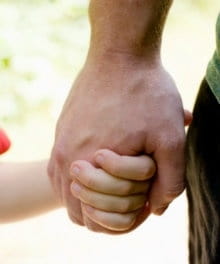 For no matter how many promises God has made, they are "Yes" in Christ. And so through him the "Amen" is spoken by us to the glory of God (2 Corinthians1:20).
Has God ever made you a promise? Have you ever spent years waiting for God to fulfill that? Have you spent countless hours wrestling with God, begging him to reassure you that the promise was from him? Have you thrown out a fleece (Judges 6) repeatedly?
Almost five years ago, God began taking me down a journey—a journey in which he promised to give me the desires of my heart if I would commit my ways to him (Psalm 37:4-7). As I have wrestled with him in prayer, fasted repeatedly, thrown out fleeces more times than I care to count, I have seen him confirm his promise to me repeatedly. I have reached a place of undeniable confidence that this promise is from him.
This journey has taken me on many twists and turns. I've seen my faith stretched and molded as I seek to believe God's word to me. I've cried many tears and collapsed in fits of laughter. I've struggled with God's sovereignty versus man's free will.
Along the way, God has shown me the condition of my heart. He's shown me my pride. He's shown me my fears. He's revealed how much room I have to grow. Most recently, He has begun to show me that I simply do not trust him. I'm not proud of that fact, but it is the honest truth.
Through all of these days, I have clung to the knowledge that God cannot lie (Titus 1:2), that he is always faithful (Hebrews 10:23), that he always fulfills his promises to his people (Luke 1:37). I have done my best to walk by faith and not by sight (2 Corinthians 5:7). I finally reached a place where I was completely confident that the days of fulfillment were near and that God would fulfill his promise to me.
And then, all hopes for fulfillment vanished in one single moment.
In that moment and in the days since, I've been faced with a decision: Do I continue to believe God, to cling to hope for a promised fulfilled, or do I walk away and attempt to reconcile my faith based upon a broken promise?
Although my faith has been shaken and I am still trying to get my feet underneath me again, I cannot deny that this promise is truly from God—and he continues to reassure me regularly that I have not misunderstood. Therefore, I have no choice but to continue clinging to hope.
You will keep in perfect peace those whose minds are steadfast, because they trust in you (Isaiah 26:3).
These are difficult days. I have found myself in turmoil more times than I care to admit. I have discovered that I was focusing far more energy and attention on the promise God has made me than I was focusing on the Promise Maker, the Promise Keeper. As I readjust my mind, my thoughts on him, I find that peace again becomes the pervading reality of my life.
I have repeatedly heard God calling out to me, "Be still and know that I am God" (Psalm 46:10). My sense of excitement and anticipation of the fulfillment of this promise has caused me to become distracted. I have spent literally hours begging God to bring his promise to fruition. I have spent entire nights in prayer, knowing that fulfillment is near. And yet, I have failed to simply be still in his presence, to sit and soak in the love of my Savior. Right now, as I struggle to cling to faith and trust him in the darkness, he is calling me to his presence—and nothing else.
Recently on Spiritual Life
Have something to say about this article? Leave your comment via Facebook below!
advertise with us
Example: "Gen 1:1" "John 3" "Moses" "trust"
Advanced Search
Listen to Your Favorite Pastors