Creed: From the Religious Hypocrites to Pilate's Court
Eva Marie Everson, Contributing Writer & Author
Monday, August 29, 2005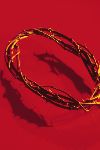 It's almost as if Jesus is saying, "You are all playing right into the plan; don't you see? No one is fighting for me. The very people I came to save have arrested me. And guess what? You are about to bring the kingdom of earth into the Kingdom of Heaven. From the beginning of time, it's been arranged. It's been prepared for. It is now."
Pilate must have slapped his hands together. "Then you are a king!" (Yippee-Skippy we may be getting somewhere.)
But again, Jesus stuns Pilate with his answer. "You are right in saying I am a king. In fact, for this reason I was born, and for this I came into the world, to testify to the truth. Everyone on the side of truth listens to me."
"What is truth?" Pilate returns.
Was Pilate teasing Jesus? Was he saying, "Oh, yeah? Just what is truth, my friend?"
Or, was he ready to have a battle of wits? (Can you imagine trying to have such a thing with the Creator of the Universe?) Did he sit in his oversized chair, chew on a nail a bit, narrow his eyes and say, "Just what is truth?"
Maybe Jesus was thinking, "You shall know the truth and the truth will set you free…" but before Jesus could answer, Pilate walked out and said, "I find nothing against him."
The chief priests were not about to back down so easily. "Don't you get it, man? He's stirring up trouble all over the place! It started in Galilee and is now way down here!"
Pilate folded his arms and tilted his head forward a bit (Again, this is the way I'm seeing it). "He's a Galilean? A Galilean?" Huge grin. "Then he's not my problem. He's Herod's."
Herod Antipas, the tetrarch of Galilee. The man who had ordered the beheading of John the Baptist. Pilate hated Herod. What better way to get back at his old rival than to send him a bunch of bloodthirsty religious men and their complicated king?
And it was still so early in the day.


---

Award-winning national speaker
Eva Marie Everson
is a recent graduate of Andersonville Theological Seminary. Her work includes the just released
Sex, Lies, and the Media
(Cook) and
The Potluck Club
(Baker/Revell) She can be contacted for comments or for speaking engagement bookings at 

www.evamarieeverson.com

.
Most recent articles in this series:
Creed: Why Jesus Suffered
Creed: The Gospel in a Nutshell
Creed: Why Jesus Came
Creed: The Son & the Father are One
Was Jesus the Son of God?
Creed: God With Us

Recently on Spiritual Life
Have something to say about this article? Leave your comment via Facebook below!
advertise with us
Example: "Gen 1:1" "John 3" "Moses" "trust"
Advanced Search
Listen to Your Favorite Pastors