Creed: God Keeps His Word
Eva Marie Everson, Contributing Writer
Monday, November 29, 2004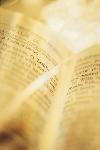 Editor's Note: "Creed" is an ongoing article series that discusses the core beliefs of Christianity as expressed in the Apostle's and Nicene creeds. Links to the other installments are listed at the end of this article.

When it comes to parents, I am incredibly blessed. I'm not saying my parents are perfect. I'm saying I'm blessed. In spite of their imperfections there was one thing - one very real thing - I knew I could always count on when it came to my relationship with them. Out of their love for me (and my brother), they were "keepers of their word." Whatever they said they would do, they did.

In turn, I learned early on the type of parent I wanted to be. In fact, the type of person I wanted to be: a keeper of my word. If I tell you I will do something, by golly, I'm going to do it, come what may.

When my children were young, I learned rather quickly that to say "we will do this..." or "we will do that..." meant "I promise." There was something about the word "will" that made them believe it was so. Something about the word "will" coming out of my mouth, more specifically.

For example, one late afternoon I said, "Tomorrow we will go to the park and have a picnic and play." I remember the delight of my girls. "Yeah! Tomorrow! The park! A picnic!"

And then, the following day - the tomorrow - the sky poured liquid sunshine! It rained so hard; I swear I think I saw Noah building an ark! That's how hard it rained.

"I thought we were going to the park," one of the girls said.

"It's raining," I pointed out.

"But you promised...."

And so I learned: don't say you'll do something...anything...unless you absolutely mean it and you know that you know that you know nothing will keep it from happening.

God the Father, Keeper of His Word

We've talked about a few of the incidences of God being referred to as "Father" within the Old Testament. We've studied the references of God as "Father" in the New Testament. Now, I want to talk about the assurances we have in God the Father as the "keeper of His word," by looking at but three of the many with whom He made covenant.

Abraham

After this, the word of the LORD came to Abram in a vision: "Do not be afraid, Abram.  I am your shield, your very great reward. (Genesis 15:1)

When the Lord came to Abraham, then known as Abram, in a vision, it was the beginning of the covenant He would make between the two of them. But, before we get to that, look at how God identified Himself.

"I am your shield...your very great reward."

The reference of God as a shield over individuals or group of people is seen several times within the Bible.

Blessed are you, O Israel! Who is like you, a people saved by the LORD? He is your shield and helper and your glorious sword. (Deuteronomy 33:29)

For the LORD God is a sun and shield; the LORD bestows favor and honor; no good thing does he withhold from those whose walk is blameless. (Psalm 84:11)

Recently on Spiritual Life
Have something to say about this article? Leave your comment via Facebook below!
advertise with us
Example: "Gen 1:1" "John 3" "Moses" "trust"
Advanced Search
Listen to Your Favorite Pastors