Creed: God Keeps His Word
Eva Marie Everson, Contributing Writer
Monday, November 29, 2004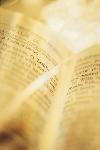 The shield, a military device, was used as a defensive weapon. The shield blocked whatever might come hurling toward a soldier. God is saying that He is Abram's (our) protector. Whatever comes against us must get past Him first...and nothing gets past Him!

God also reminded Abram that He was Abram's "reward." Not just any reward, but great reward.

The Hebrew word used here for "reward" is "Sakar," and denotes something earned...such as pay for a job. For whatever Abram had done up until this time, God was pleased and willing to then make a covenant pact between the two of them. How exciting this must have been for Abram!

Do you recall the book Just Give Me Jesus by Anne Graham Lotz? Well, exactly! Abram might have just as easily written a book entitled, Just Give Me Yahweh!

Okay, let's get to the covenant. God has established with Abram who He is and now He is ready to talk business.

But Abram said, "O Sovereign LORD, what can you give me since I remain childless and the one who will inherit my estate is Eliezer of Damascus?" And Abram said, "You have given me no children; so a servant in my household will be my heir." Then the word of the LORD came to him: "This man will not be your heir, but a son coming from your own body will be your heir."  He took him outside and said, "Look up at the heavens and count the stars-if indeed you can count them." Then he said to him, "So shall your offspring be." (Genesis 15:2-5)

Did God keep that promise? You bet. Sure, it took awhile...years, in fact. Years and years and even a little slip up (okay, a big slip up) between Abram, his wife Sarai, and her maidservant Hagar.

Now Sarai, Abram's wife, had borne him no children. But she had an Egyptian maidservant named Hagar; so she said to Abram, "The LORD has kept me from having children. Go, sleep with my maidservant; perhaps I can build a family through her." Abram agreed to what Sarai said. So after Abram had been living in Canaan ten years, Sarai his wife took her Egyptian maidservant Hagar and gave her to her husband to be his wife. He slept with Hagar, and she conceived. (Genesis 16:1-4)

Is this what God had meant to happen? No. But, God is a god of His word...whether Abram is able to wait patiently or not.

When Abram was ninety-nine years old, the LORD appeared to him and said, "I am God Almighty; walk before me and be blameless.  I will confirm my covenant between me and you and will greatly increase your numbers."  Abram fell facedown, and God said to him, "As for me, this is my covenant with you: You will be the father of many nations. No longer will you be called Abram; your name will be Abraham, for I have made you a father of many nations.  I will make you very fruitful; I will make nations of you, and kings will come from you.  I will establish my covenant as an everlasting covenant between me and you and your descendants after you for the generations to come, to be your God and the God of your descendants after you.... God also said to Abraham, "As for Sarai your wife, you are no longer to call her Sarai; her name will be Sarah.  I will bless her and will surely give you a son by her. I will bless her so that she will be the mother of nations; kings of peoples will come from her." (Genesis 17: 1-7, 15,16)

Indeed, Sarah did have a son. And Abraham named him Isaac.

Recently on Spiritual Life
Have something to say about this article? Leave your comment via Facebook below!
advertise with us
Example: "Gen 1:1" "John 3" "Moses" "trust"
Advanced Search
Listen to Your Favorite Pastors