Creed: God Keeps His Word
Eva Marie Everson, Contributing Writer
Monday, November 29, 2004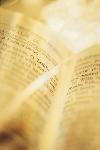 Isaac

Isaac was but the beginning of the kept promise between God and Abraham.

Then God said, "Yes, but your wife Sarah will bear you a son, and you will call him Isaac. [Which means "laughter"].  I will establish my covenant with him as an everlasting covenant for his descendants after him. (Genesis 17:19)

Notice one very important word: will. Sarah will...I will. God is saying to Abraham, "I am a keeper of my promises."

Also, notice that God is establishing a promise within the promise. "I will establish my covenant with him..."

The LORD appeared to Isaac and said, "Do not go down to Egypt; live in the land where I tell you to live. Stay in this land for a while, and I will be with you and will bless you. For to you and your descendants I will give all these lands and will confirm the oath I swore to your father Abraham.  I will make your descendants as numerous as the stars in the sky and will give them all these lands, and through your offspring all nations on earth will be blessed, because Abraham obeyed me and kept my requirements, my commands, my decrees and my laws."  So Isaac stayed in Gerar. (Genesis 26: 2-6)

Isaac, already married to the beautiful Rebekah (see Genesis 24), is now given the same promise as that which was given to his father. That promise would begin when Rebekah gave birth to twins, two sons: Esau and Jacob.

Isaac prayed to the LORD on behalf of his wife, because she was barren. The LORD answered his prayer, and his wife Rebekah became pregnant.  The babies jostled each other within her, and she said, "Why is this happening to me?" So she went to inquire of the LORD.  The LORD said to her, "Two nations are in your womb, and two peoples from within you will be separated; one people will be stronger than the other, and the older will serve the younger."

When the time came for her to give birth, there were twin boys in her womb. The first to come out was red, and his whole body was like a hairy garment; so they named him Esau. After this, his brother came out, with his hand grasping Esau's heel; so he was named Jacob. Isaac was sixty years old when Rebekah gave birth to them. (Genesis 25: 21-26)

The covenant continues....

Next Time: God's Covenant with Jacob, God the Father Almighty


---

Award-winning national speaker, Eva Marie Everson is a recent graduate of Andersonville Theological Seminary. Her work includes
Intimate Moments with God
and
Intimate Encounters with God
(Cook). She is the author of
Shadow of Dreams
,
Summon the Shadows
and
Shadow of Light
. (Barbour Fiction) She can be contacted for comments or for speaking engagement bookings at www.evamarieeverson.com.
Other Articles in This Series:
Creed: The Father Says 'Welcome to My Family'
Creed: The Abba of Jesus
Creed: Who is God the Father?
Creed: Acting on Your Faith
Creed: Who is God to You?
Creed: What is God's name...other than 'God?'
Creed: What Do You Really Believe?
More Than Words
Recently on Spiritual Life
Have something to say about this article? Leave your comment via Facebook below!
advertise with us
Example: "Gen 1:1" "John 3" "Moses" "trust"
Advanced Search
Listen to Your Favorite Pastors