Creed: God the Father Almighty Made Heaven & Earth
Eva Marie Everson, Contributing Writer
Monday, December 06, 2004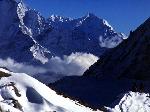 Editor's Note: "Creed" is an ongoing article series that discusses the core beliefs of Christianity as expressed in the Apostle's and Nicene creeds. Links to the other installments are listed at the end of this article.

We've spent the past several installments of "Creed" talking about God the Father. In both the Nicene and the Apostle's Creed, there is a tag of sorts at the end of this facet of the Divine. God the Father Almighty.

This term was heard for the first time when God spoke to Abraham in Genesis 17:1, saying, "I am God Almighty."

In Hebrew, El Shaddai.

According to Baker's Evangelical Dictionary, under Names of God, we read that some believe this title or name is the oldest of the divine names found in the biblical text. It appears nearly 50 times, 31 in the book of Job alone. Because in Hebrew every name means something, El Shaddai denotes God's invincible power.

How appropriate that this name of command and authority precedes Maker of Heaven and Earth.

The Potter

Several installments ago, we looked at Isaiah 64:8, which reads: Yet Lord, You are our Father; we are the clay, and You are our potter; we all are the work of Your hands.

I wrote of Joy, my new friend from England/Idaho who is a potter and who spoke to me of the thrill of putting her hands in the clay and working it into something.

The importance of this to the creation story found in Genesis is the use of words such as "created," and "formed" and "made." There is the sense in the writings of a potter working a hunk of clay into a fine piece of art.

When it comes to debating the Scriptures, the story of creation is certainly at the top, even among Christians. Yes, even among Christians. Is the Genesis story exact in the telling? Did it really take place within a seven-day period? Were the seven noted days to God like our days? Or, is the Big Bang Theory, introduced in 1927 by the Belgian priest Georges Lemaître, more accurate? If so, did God's initial pounding of the clay actually begin 10 to 20 billion years ago?

Well, we're back to the faith issue. So, let's make a pact. We won't argue how. Let's just argue whom.

God as Creator

There are nearly one hundred sections of the Scriptures telling of God's creation process or praise Him because of it. And, no, we won't read every one of them. But, we should look at the most obvious: Genesis, chapters one and two. Within these verses, the author (Moses) describes God by action. Within that action we see his creative power.

God created. God made. God said...and it was so. God saw. God divided. These are words that demonstrate God's command and His...well, okay...power! Why? Because -  check it out - there was no laboring, merely speaking. God created the heavens and the earth, not out of clay, but out of nothing more than His words. This is infinite power.

In Genesis 1:1 we read: In the beginning, God...

Recently on Spiritual Life
Have something to say about this article? Leave your comment via Facebook below!
advertise with us
Example: "Gen 1:1" "John 3" "Moses" "trust"
Advanced Search
Listen to Your Favorite Pastors