Creed: God With Us
Eva Marie Everson, Contributing Writer
Monday, April 25, 2005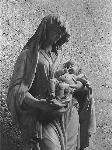 Editor's Note: "Creed" is an ongoing article series that discusses the core beliefs of Christianity as expressed in the Apostle's and Nicene creeds. Links to the other installments are listed at the end of this article.

In our study of the Apostle's and Nicene Creed, we have moved from God the Father to God the Son. The Apostle's Creed is pretty much "cut and dry" on the subject. …and in Jesus Christ His only Son, our Lord.
But the Nicene Creed is a bit more detailed. Almost poetic.
And in one Lord Jesus Christ, the only-begotten Son of God, begotten of the Father before all worlds, God of God, Light of Light, Very God of Very God, begotten, not made, being of one substance with the Father by whom all things were made…
Begotten, Not Made
The writers of the Nicene Creed seem intent on stressing that Jesus was "begotten." It's a word we—those of us who grew up on the King James Version, no matter what version we now use—have known since we memorized our first Bible verse. Specifically, John 3:16.
We recited the word "begotten" whether we knew what it meant or not.
According to the Merriam-Webster Online Dictionary[1], begotten is an inflective form of the word "beget." To beget is "to procreate as the father." Of course we know what this means in the physical. Fathers beget sons and daughters. Mothers give birth to.
The biblical story of the natural birth of Jesus is a familiar, if not controversial, one. Somewhere around 6 BC, a young (probably around 13 or 14) Jewess named Mary was visited by the angel Gabriel and told that the long-awaited Messiah would come from her womb.
"How will this be," Mary asked the angel, "since I am a virgin?" The angel answered, "The Holy Spirit will come upon you, and the power of the Most High will overshadow you. So the holy one to be born will be called the Son of God. Even Elizabeth your relative is going to have a child in her old age, and she who was said to be barren is in her sixth month. For nothing is impossible with God." ~~Luke 1:34-37
This Should Be Of No Surprise To Anyone
While the sudden appearance of an angel should and would certainly be a shock to anyone, Mary must have realized the significance of Gabriel's words. The Jewish people as a whole had been looking for…waiting for…the Anointed One. In their Scriptures (which we refer to as the Old Testament), there are over 700 prophecies that He will come. One of them reads:
Therefore the Lord himself will give you a sign: The virgin will be with child and will give birth to a son, and will call him Immanuel.[2]~~ Isaiah 7:14
It has been argued that the Hebrew word for virgin, `almah, in actuality means "young woman." This is not so. An `almah was a virgin of marriageable age, who would logically in the culture of the ancient Hebrews, be young.
The foreshadowed prophecy of the Old Testament prophet Isaiah was fully revealed around 5 BC when the One we call Jesus was born. Matthew wrote in his gospel:
All this took place to fulfill what the Lord had said through the prophet: "The virgin will be with child and will give birth to a son, and they will call him Immanuel" -which means, "God with us." ~~Matthew 1: 22,23
Some forty weeks after Gabriel's declaration, Mary—a virgin betrothed to a Galilean carpenter named Joseph—gave birth to a baby boy. And when she did, angels were immediately dispatched from heaven to earth, bringing the news to a group of shepherds who lived out in nearby fields. As they shook with fear, one of the angels spoke. "Do not be afraid, I bring you good news of great joy that will be for all the people. Today in the town of David a Savior has been born to you; he is Christ the Lord."
What I love about those words is this: it's so to the point. "Here's the deal, boys," it seems the angel said. "God is here!"
God with us.
Once and Only Once
In the history of mankind, had God ever placed an anointing and power on such a young girl? Not that I know of. Mary became pregnant, not because she lay down with a man (Celsus, a second century writer of works against Christianity, declared that Mary had an affair with a Roman soldier), but because "the Holy Spirit came upon her and the power of the Most High overshadowed her."[3]
Power. Dunamis, in Greek. We get the word dynamite from its root. An explosive power, then? Strong's said it is a power that comes from the inherent nature of God. The same power that created the world and all that is in it, is the very same power that came to rest on Mary.
Try to imagine that if you will. If you can. What kind of stirring must have taken place in her spirit? Obviously something so remarkable her relative Elizabeth, when she saw her, declared "Why am I so favored that the mother of my Lord should come to me? As soon as the sound of your greeting reached my ears, the baby in my womb leaped for joy."[4]
Before All Worlds
Was Jesus in existence before 6 AD?
I believe He was. I'm not the only one.
John the Beloved wrote: In the beginning was the Word, and the Word was with God, and the Word was God. He was with God in the beginning.
John carefully begins his gospel in the same manner as the first book of the Pentateuch, the first five books of the Jewish and Christian bibles. John stresses what he believes to be the foundation of Christian thinking in one opening line: Jesus is God incarnate.
He is God with us.
Next installment: God of God, Light of Light, Very God of Very God

Award-winning national speaker, Eva Marie Everson is a recent graduate of Andersonville Theological Seminary. Her work includes Intimate Moments with God and Intimate Encounters with God (Cook). She is the author ofShadow of Dreams,Summon the Shadows andShadow of Light. (Barbour Fiction) She can be contacted for comments or for speaking engagement bookings atwww.evamarieeverson.com.

Other Articles in This Series:
Creed: Jesus is God's Only Begotten Son
Creed: What Do You Believe?
Creed: Going on the Attack Against Evil Forces
Creed: The Unseen Armor of God
Creed: Understanding the Visible and Invisible
Creed: God the Father Almighty Made Heaven & Earth
Creed: The Covenant God of You and Me
Creed: God Keeps His Word
Creed: The Father Says 'Welcome to My Family'
Creed: The Abba of Jesus
Creed: Who is God the Father?
Creed: Acting on Your Faith
Creed: Who is God to You?
Creed: What is God's name...other than 'God?'
Creed: What Do You Really Believe?
More Than Words
---
[1]http://www.m-w.com/
[2]Immanuel means: God with us.
[3]Reference Luke 1:35
[4]Luke 1: 43, 44
Recently on Spiritual Life
Have something to say about this article? Leave your comment via Facebook below!
advertise with us
Example: "Gen 1:1" "John 3" "Moses" "trust"
Advanced Search
Listen to Your Favorite Pastors