Creed: Jesus ... the Only Begotten Son
Eva Marie Everson, Contributing Writer
Monday, April 11, 2005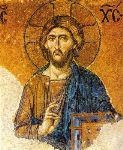 That He gave—The word "gave," in the Greek is didomi, which denotes "a gift."
Allow me to say that again: a gift!
It Really Is Christmas!
My brother is the coolest, bestest Christmas shopper around. For years—and I don't know if he still does this or not—he went shopping daily for Christmas gifts. Not that he couldn't find it all the first time out. No. Rather, he took a day (or part of a day) to shop for one person in particular. He didn't say, "Saturday I'll go Christmas shopping," then head out with a list of names and some "suggestions." He took his time seeking out the perfect gift for those he loves.
One could always bet on a personal, perfect gift on Christmas morning if their name was on his list.
God's Christmas gift to us is like that. He's not just buying stuff and wrapping it willy-nilly, then slinging it under our holiday tree. He sent His Son…the best He could send. Giving up His Son was an act of such unselfish love and desire; it truly was and is a gift.
It's Not Just Greek to Me
So, let's get back to the beloved verse.
His only begotten—Monogenes. It means, "one of a kind." Or, "the one and only." Typically used by parents of their "only child," it is used here to show God's only Son that is of a divine nature with Him. Yes, we are God's children—adopted sons and daughters—but Jesus and the Father are one. "God of God," the Nicene Creed says.
Very God of Very God.
Next Installment: From the beginning, always and forever, Jesus.
---

Award-winning national speaker, Eva Marie Everson is a recent graduate of Andersonville Theological Seminary. Her work includesIntimate Moments with God and Intimate Encounters with God (Cook). She is the author of Shadow of Dreams, Summon the Shadows and Shadow of Light. (Barbour Fiction) She can be contacted for comments or for speaking engagement bookings at  www.evamarieeverson.com. 

Other Articles in This Series:
Creed: What Do You Believe?
Creed: Going on the Attack Against Evil Forces
Creed: The Unseen Armor of God
Creed: Understanding the Visible and Invisible
Creed: God the Father Almighty Made Heaven & Earth
Creed: The Covenant God of You and Me
Creed: God Keeps His Word
Creed: The Father Says 'Welcome to My Family'
Creed: The Abba of Jesus
Creed: Who is God the Father?
Creed: Acting on Your Faith
Creed: Who is God to You?
Creed: What is God's name...other than 'God?'
Creed: What Do You Really Believe?
More Than Words
Recently on Spiritual Life
Have something to say about this article? Leave your comment via Facebook below!
advertise with us
Example: "Gen 1:1" "John 3" "Moses" "trust"
Advanced Search
Listen to Your Favorite Pastors