Creed: The Abba of Jesus
Eva Marie Everson, Contributing Writer
Wednesday, November 03, 2004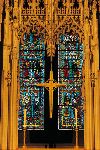 Editor's Note: "Creed" is an ongoing article series that discusses the core beliefs of Christianity as expressed in the Apostle's and Nicene creeds. Links to the other installments are listed at the end of this article.

What do you call your earthly father? Dad? Daddy? (A Southern daughter, they say, always calls her father "Daddy" and she will always be "Daddy's Little Girl." I am a Southern daughter and can most assuredly attest to that.)
Do you call him Papa? Vater? Padre? Pai or, even, Father?
When Jesus walked among us, He had a special name for God. When he called Him "Abba," he introduced to the world a new and more richly intimate view of God.
Who is Abba?
"Abba" is the translated word "Daddy" in Aramaic, the common language of Jesus' day. It says so much more than, "you sired me." It is a term of absolute intimacy. Two hearts beating as one.
I recently watched a movie based on a true story. This was the tale of a father who had chosen his own way in life, leaving his (then) ex-wife to raise their two daughters alone. Sure, he sent child support, but beyond a vague memory, he wasn't a real part of their lives.
When the girls were in pre-adolescence, their mother was killed and the girls were forced to go live with their father—a man they didn't even know. Of course there were struggles, but as they each drew toward each other, the scriptwriters demonstrated their actually reaching one another's hearts by the usage of one word of endearment from the daughters. "Daddy."
While God is referred to as "Abba" only three times in Scripture (Mark 14:36, Romans 8:15, and Galatians 4:6), there's no doubt Jesus referred to Him as such in the many times He "went away to a private place to pray."
But, more exciting, is that Jesus introduced God His Father as God our Father early on in His ministry. This certainly does not mean that we are on the same level with Jesus when it comes to Sonship. He is the only begotten Son of God. We are sons and daughters, adopted in by Him. But…we're in the family!
Augustine of Hippo said, "How lucky we are, to have discovered that our God is our Father!" Indeed we are. And to know that He is not a Father who sits in cruel judgment, but rather rules in the purest form of love.
God in a Dream
I had a dream once that had a small little segment, which has stayed with me all these years. It was probably twenty years ago that I had this dream, so you can see the significance of my remembering it. In the dream a young girl—a princess—woke early one morning in the beautiful castle she called "home." She dressed quickly, dashed out of her bedroom door, down a large regally decorated hallway, down a wide staircase, then down another hallway and into a kitchen. All the while her long, velvet dress billowed around her nimble legs and her hair seemed to rush just to keep up with her. When she reached the kitchen she saw her father, the king, sitting in a high-back chair, enjoying his breakfast. "Papa!" she exclaimed.
Recently on Spiritual Life
Have something to say about this article? Leave your comment via Facebook below!
advertise with us
Example: "Gen 1:1" "John 3" "Moses" "trust"
Advanced Search
Listen to Your Favorite Pastors