Creed: The Abba of Jesus
Eva Marie Everson, Contributing Writer
Wednesday, November 03, 2004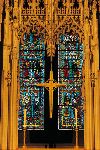 When Papa the King saw his daughter—his little girl—he pushed away from the table (topped with every good dish from end to end) and opened wide his arms. Immediately the princess leapt into his lap, pulled her knees up to her chest (and his!) and snuggled into his warmth and love. "I missed you all night long, Papa," she exclaimed.
The king kissed his daughter on the top of the head and said, "And I missed you, too, my princess!"
Can you imagine a moment such as this with God the Father? When was the last time you woke up and dashed into His arms, just to be cuddled? "I missed you all night long, Abba!"
"And I missed you, too, my child…"
Old to New
Though the words of Jesus made "God the Father" more understandable and acceptable, God's fatherhood was understood before the coming of the Son.
Isaiah 64:8 reads: Yet Lord, You are our Father; we are the clay, and You are our potter;
we all are the work of Your hands.
Notice the first two words: Yet, Lord.
What comes before the eighth verse of Isaiah 64 is an almost poetic melody of praise to God for His just ways, His moral judgment, and the fiery magnificence of Him as the One who not only creates, but also causes that which He created to tremble. Isaiah lifts his voice in proper fear of the Lord.
But, to be the Potter is to create by the loving use of His Hands.
Potter and Clay
I recently spoke to a precious group of women from Mountain Home, Idaho. Among their number was an absolute dear of a woman named Joy. In the matter of one conversation, I learned much about this lady I have now come to admire and respect.
Joy is from England and prefers tea to coffee.
Joy was a war bride. ("I married one of those Yanks, don't you know….")
Joy is a wife, mother, grandmother, and great-grandmother.
Joy is a potter by profession.
Before I left the beautiful state of Idaho, I dropped by Joy's home where her studio is located. She took me into a cluttered garage where she keeps her supplies, including the kiln, potter's wheel, and "hunks of clay."
"Here's my clay," she said, pointing to a container full of gray goop. "Look at it. It looks like nothing…but when I put it on the wheel, it becomes art." As we moved closer to the wheel she commented, "When I sit here with my hands on the clay, I become lost to everything else." Joy closed her eyes, as though enraptured by the very thought of the creation process.
Recently on Spiritual Life
Have something to say about this article? Leave your comment via Facebook below!
advertise with us
Example: "Gen 1:1" "John 3" "Moses" "trust"
Advanced Search
Listen to Your Favorite Pastors