Creed: Who is God to You?
Eva Marie Everson, Contributing Writer
Friday, August 27, 2004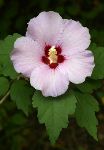 LORD, or Jehovah. God, or Elohiym.
Why would these two names for God be used together in a single incident?
"The ancient rabbis taught that YHVH (Jehovah is derived from YHVH, and there is no "J" sound in Hebrew) represented the merciful aspects of God, while Elohiym represented the judgment side of Him," says author, speaker, and teacher Sandy Bloomfield-Demilli. "When you see them together you are seeing both law and grace at the same time."
Think about this for just a moment. What is about to occur will change the course of both physical and spiritual history. The Law and the Grace are speaking to Moses, declaring whom He is…for all time.
And here stands Moses, a mere human. A murderer and a refuge. A man separated from his own people. Is he ready to receive it? Not really, no. But God knows that it is time, none-the-less, and on this mountain, with this great God, Moses receives the great commission of his lifetime: Go back to Egypt, face Pharaoh, and bring My people out of slavery.
Of course we know the story. Moses says, "Who am I to do this?" to which is God's reply, "Surely I will be with you."
I love that. What God is saying here is, "Without me, nothing. Nada. Zippo. But with me, everything. Bold. Fearless. A great leader. A man who will be honored forever."
It's the early version of "I can do all things…"
Moses asks, "Who do I say sent me?" Literally, what he said was this: What is your name?
Then Jehovah answered, "I AM WHO I AM. Tell them I AM sent you."
So often the story, as we tell it, ends there. But there's more!
This is my name forever, the name by which I am to be remembered from generation to generation. (Exodus 3:15b)
Who Jesus Said He Was (and is…)
Fast-forward a few thousand years. Jesus has come to earth. Though a Heavenly Prince, He is, in human form, a Hebrew "slave" of the Roman Empire. He has achieved adulthood, lived as a carpenter, and entered the ministry. AD 27 was His Year of Inauguration, followed by the Year of Popularity (AD 28). AD 29 began the Year of Opposition, among one of the first notable acts being the feeding of the 5,000 and the walking on water.
In John 6: 34, Jesus issues the first of what we now call the "I AM" statements.
            "I am the bread of life." (6:35)
            "I am the light of the world." (8:12)
            "I am the gate for the sheep." (10:9)
Recently on Spiritual Life
Have something to say about this article? Leave your comment via Facebook below!
advertise with us
Example: "Gen 1:1" "John 3" "Moses" "trust"
Advanced Search
Listen to Your Favorite Pastors