Divine Appointments in Unexpected Places
Kirk Cameron, Way of the Master
Wednesday, September 28, 2005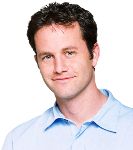 "Guilty."
"So does that mean you'd go to Heaven or Hell?"
"Hell."
From this point on in our conversation, he was very contemplative. It was apparent to me that this man knew he was in trouble with God. We talked about the seriousness of sinning against a holy God and the reality of God's just punishment. He didn't argue or try to make up excuses. I discerned that he was feeling conviction and he was ready for grace.
We talked for another several minutes about God's love for him and how God demonstrated it by sending His only begotten Son to die for him on the cross, making a way for him to be reconciled to his Creator. I explained repentance and faith and he seemed to have a very good grasp on what those words meant. He didn't try to complicate things, or offer up excuses for his past actions, but said he understood that the only thing he felt he could do was to "stop doing those things and ask God for help." I re-emphasized the necessity of dying to himself (not to end his life by hanging with a noose, but to live for God) and trusting in Jesus Christ alone to save him from sin and lead him as Lord.
The man's eyes welled up with tears as we continued to talk. I gave him some things to help him along in his spiritual journey (a Soundly Saved CD and Save Yourself Some Painbooklet) and asked him if he'd like to pray. He was very grateful and we prayed together in the alleyway.
He told me about how a relative of his had turned to God because of a miraculous event in his life and how he wished that God would do something out of the ordinary for him as some sort of a "sign." I laughed as I thought about how out of the ordinary it was for a man named Kirk to happen to ride his bike by a Christian ministry building at just the moment "that guy" (another Kirk) was walking into that building, strike up a conversation about God that clearly showed him "the way," and end up praying for salvation. I asked him if he thought our meeting could possibly be the sign he was looking for. He looked up to the heavens, smiled, and then nodded his head and said, "Maybe it is." He gave me a hug and his business card and said he'd be back one day.
As he rode his Moped down the street with Tiger, Sarah, and Samson following behind, I prayed for him and thought about how wonderful God is to arrange such divine appointments in such unexpected places.
"Where can I go from Your Spirit? Or where can I flee from Your presence? If I ascend into heaven, You are there; If I make my bed in hell, behold, You are there. If I take the wings of the morning, and dwell in the uttermost parts of the sea, Even there Your hand shall lead me, and Your right hand shall hold me." ~ Psalm 139:7-10

Recently on Spiritual Life
Have something to say about this article? Leave your comment via Facebook below!
advertise with us
Example: "Gen 1:1" "John 3" "Moses" "trust"
Advanced Search