Erwin McManus Advocates Following the Barbarian Way
Janet Chismar, Senior Editor, News & Culture
Wednesday, April 13, 2005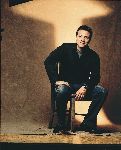 "I want to destroy the influence of the Christian cliché 'the safest place to be is in the center of the will of God,'" says Erwin McManus, a Hollywood-based pastor, author and "cultural architect" of one of the most innovative congregations in America. McManus challenges "civilized Christianity" in his book, The Barbarian Way.

McManus is the visionary behind Mosaic—a radically innovative, multi-ethnic congregation in the heart of Los Angeles. With nearly 60 nationalities represented, an average age of 25, and a disproportionate population of artisans, innovators, and entrepreneurs, the unorthodox Mosaic is a true reflection of its passionate and straight-forward leader.

During a recent interview, McManus ellaborated on The Barbarian Way and how it can play out in everyday life.

EDIT:
JC:  Why is it that Christianity is too civilized and too safe?
EM:  Yesterday I was teaching at Mosaic and I was talking about the more priests there are the more wickedness there was and how they actually revelled in the sense of the people that I think the condition we're in today is a condition we tend to move in historically generation by generation and what happens is that people are sincere when they begin this journey with Jesus Christ but sometimes after generations people actually hold the beliefs but do not have the relationship and we begin to establish institutions that we guard up by our doctrines and we actually use that to hide the fact that we've not been transformed by Jesus Christ.
JC:  Let's talk about the book.
EM:  One of my favorite lines in the book is "Barbarians love to live and live to love."
JC:  "We choose political and secular vehicles to try to advance our cultural values, strangely attempting to make unbelieving people act like civilized believers."  Can you clarify that?
EM:  Sure, I think one perfect example would be the strong movement, the 80s, the more majority and what I'm not saying is that Christians shouldn't have political influence or cultural influence.  What I am saying is the very thing that we felt our country reflected, our country didn't reflect it because of political or legal reasons.  Our country reflected it because people were connected to God, people had a relationship with Jesus Christ so then our national policy reflected the transformation of people's lives and we've kind of lost our confidence or our belief that people can be changed and so then what we try to do is cause people to conform to our belief systems rather than believe in the gospels the power to really change our entire nation.
JC:  How did you come to conclusion or why are churches getting it so wrong (about the part that you liked about being single and what not)
EM:  The point about being aliens barbarians?  Well let me give you a great example that I just stumbled on this weekend.   I took my daughter, she just turned 13 last week, and my son went shopping for blue jeans.  I don't know what it was like for you but when I went shopping for blue jeans there was just one kind of blue jeans and everybody wore them, you know Levis.  We went into Lucky Brand and what I discovered was that the more tattered, the more torn, the more worn the jeans, the more expensive they were.  And the more they were new and ordinary the less expensive.  And I think there's something in the culture that says I'm so tired of being forced to conform to everyone else's expectations of me and there's something inside of every human being that says whether tattered or ripped apart or shredded I want people to accept me for who I am and know me for who I am.  I think we live in a time when people have a desperate longing to be authentic and then to find that they're still loved.
Recently on Spiritual Life
Have something to say about this article? Leave your comment via Facebook below!
advertise with us
Example: "Gen 1:1" "John 3" "Moses" "trust"
Advanced Search
Listen to Your Favorite Pastors