Evangelicals Remember Lent
Whitney Hopler, Contributing Writer
Wednesday, February 26, 2003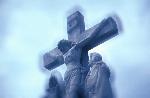 Kathleen Otchy grew up observing Lent in traditional ways through her Catholic church - such as fasting and attending worship services filled with solemn ritual. Everywhere in church, she was surrounded by reminders of the 40-day season of reflection and penitence leading up to Easter. Yet now that she's a member of an evangelical church that barely mentions Lent at all, Otchy's Lenten seasons have actually become more meaningful for her.
For all the beauty of the Lenten rituals in her childhood church, "There was really no explanation of why we were doing them, or a sense of any real biblical support for them," Otchy recalled. 
In her current church, Fairfax Community Church in Fairfax, Virginia, a Maundy Thursday footwashing service is the sole reminder that Easter is approaching. But Otchy spends time regularly during Lent reading the Gospels, and finds that doing so helps her connect with God more than any traditional ritual.
"Even though it's not called Lent in my church and there are no special rituals, it's a very special reflective time," said Otchy. "You're more on your own to decide what God would have you do during that time, and I've found that very freeing, and even closer to what I believe is God's heart. God directs the time according to how He wants to speak.  Reading the Gospels and concentrating on Jesus' life - how He was both the son of God and the son of man - really puts the heart of my faith before me as I get ready to celebrate Easter and the salvation He gave us."
Lent is often overlooked by evangelical churches that eschew the liturgical calendar in favor of following their own themes for sermons and activities.  And evangelical churches that do follow liturgy sometimes give short shrift to Lent.  Still, many evangelicals do observe Lent, and often do so in ways that they find lead to significant spiritual growth.
Every year, members of Church of the Good Shepherd in Vienna, Virginia, produce an approximately 60-page Lenten devotional filled with their original essays, poems and drawings. Each church member - from children through seniors - is invited to participate.  Then a copy is mailed to every household within a five-mile radius of the church - about 28,000 homes.
The effort has proven fruitful for community and church members alike, said the church's pastor, James Noland.  "In sharing it with the community, it helps us express our faith in a way that genuinely moves other people. And in our own congregation among those who have contributed, I've seen a greater willingness to talk about faith with other people."
Church members also share a Lenten supper of soup and salad each Wednesday evening during Lent, while listening to a brief devotional message.  And sometimes, Noland said, he will focus his sermon messages on Lent.
Investing the time to observe Lent is spiritually worthwhile, said Noland.  "Time is a very scarce resource for many people today due to the frantic pace of life and all the distractions. Lent gives us a way of setting apart time to focus on the cross, and the cross goes to the heart of what our faith is all about.  Reflecting on what Christ did on the cross, on our salvation - that's so important to take the time to do."
Recently on Spiritual Life
Have something to say about this article? Leave your comment via Facebook below!
advertise with us
Example: "Gen 1:1" "John 3" "Moses" "trust"
Advanced Search
Listen to Your Favorite Pastors