Evangelicals Remember Lent
Whitney Hopler, Contributing Writer
Wednesday, February 26, 2003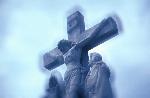 Celebrating Easter wouldn't be the same without observing Lent first, Noland said. "Everything we do during Holy Week [Maundy Thursday and Good Friday services] has taken on a much deeper dimension because we've gone just gone through Lent.  Then when Easter comes, it seems even more significant since we've prepared for it.  We've spent lots of time thinking about what our faith really means."
Lent is an important time for people to discover more about Christ and forge stronger relationships with Him, said Phil Ashey, pastor of South Riding Church in South Riding, Virginia.  During Lent this year, his church will host an "Alpha" group for seekers to explore whatever questions they have about Christianity.
"I see Lent as a door - an entry way - for people to connect or reconnect with Jesus," Ashey said.  "Our culture is so focused on an event rather than a process. Even as evangelicals, I think we've been trapped by the idea that salvation is a one-time event, like a sale that we've got to close. But often, it's a process in which people ask questions again and again and again and approach God again and again and again to consider faith.  We're hoping to use Lent as a way to help people consider Jesus and take the time they need to process all He's done for us, so they can discover a faith that's real."
Unlike the joyless deprivation some people think of when they think of Lent, the season can actually be a quite rewarding and exciting time, said Ashey.  "There's a sense of preparation, of anticipation, and a sense of savoring what Jesus did for us.  The church calendar invites us to take our time and conform it to Jesus' time. We take a season like Lent and we enter into Jesus' life and all that He dealt with on Earth, and then we can better deal with everything in our own lives because we've connected with Him."
A positive attitude helps make Lent meaningful, he said.  "Sometimes people will focus on the negative during Lent, but it helps to focus on the positive.  Rather than focusing on giving up something, you can focus on embracing something - a spiritual discipline, like prayer or Scripture reading.  That will help you develop a holy habit that can actually help you become more like Jesus."
Calvary Memorial Church in Oak Park, Illinois tries to incorporate some sort of Lenten reminders into its worship services during the season, even though it doesn't follow the liturgical year, said Pastor Ray Pritchard.  "Some years I have preached a short Lenten sermon series. Often we have music that focuses on the Cross as we draw near to Holy Week. ... It varies from year to year, and, in some cases, on the overall theme we are following for the whole year."
Although evangelicals don't generally express their faith through rituals, it can be powerful to participate in rituals when they're personally meaningful. Sometimes, God uses Lenten rituals as tools to speak to the faithful, said Betsey Mulloy, a member of Church of the Apostles in Fairfax, Virginia.  One year, while she was teaching a Bible study at a Greek Melkite church, she attended some of the church's Lenten services and encountered God's presence there.  "The services were so beautiful - so colorful, so mystical, and so ancient.  I really like rituals if they're meaningful.  Rituals can do such a beautiful job of expressing deep things about our faith."
Mulloy, who will lead a Lenten retreat for her church this year, said that no matter how she observes the Lenten season, she strives to live with attitudes of humility, repentance and thankfulness all year long. "I try not to get hung up on certain seasons," she said. "It's important to remember the cost of Easter, and I try to do that during Lent, but also every day of the year."

Lent begins this year on Wednesday, March 5th.
 
Recently on Spiritual Life
Have something to say about this article? Leave your comment via Facebook below!
advertise with us
Example: "Gen 1:1" "John 3" "Moses" "trust"
Advanced Search
Listen to Your Favorite Pastors