Experience God as Good When Life Isn't
Whitney Hopler, Crosswalk.com Contributing Writer
Monday, April 07, 2008

Notice and be thankful for the gifts God has given you. Stop to consider the huge array of gifts God has bestowed on you – from the most basic gift of each breath you take, to your unique talents. Be alert to the many gifts you see in the world. Let your gratitude for all that's lovely and admirable regularly remind you that God cares about you individually and the world as a whole. Receive God's gifts without feeling guilty; invite Him to lavish His unconditional love on you.
Take a trip. Get away now and then, because a change in your surroundings will give you a changed perspective on your life. It will enlarge your view of your circumstances and prevent you from being stuck in them, unable to see the bigger picture of God at work.
Make time regularly for silence and solitude. When you go to a quiet place by yourself, you can most easily concentrate on listening for God's voice speaking to your spirit. Make a habit of doing so as often as you can. During your times of silence and solitude, seek something greater than just answers to your questions – seek God Himself.
Look forward to a better future. Remember God's promises that there will come a time when sin no longer infects the world. Be assured that there is a better life to come.
Help make this world a better place right now. Take action to contribute to the world in whatever ways you sense God leading you to do so. Pray for direction about how best to use your natural talents and spiritual gifts serve God and other people in specific and meaningful ways. Help make your church a loving community, and work for justice in the world.
Go ahead and play. Realize that God wants you to enjoy life during the good times. Take full advantage of opportunities to have fun and laugh. Ask God to give you joy that isn't dependent on changing circumstances.
Look for mercy at work around you. Notice the many acts of mercy God is doing in your life and the lives of other people you know. Thank Him for them.
Think about the Resurrection. Regularly remind yourself of this incredible historical reality. Understand that the same power that raised Jesus from the dead is available to you as a believer every day, if you choose to trust God with every part of your life and invite Him to work through you.
Give others hope. Share the Gospel message with other people as often as you can, to point them to spiritual hope. Back up your witness by helping to meet their physical needs (for food, shelter, medicine, etc.) when you can. Spread kindness indiscriminately in Jesus' name, so others can experience His goodness.
Notice people who others may overlook. Ask God to help you be aware of people who might be overlooked by others, but who He wants you to recognize and encourage. Consider such people as babies, the elderly, the disabled, and prisoners. Let them know that they're not forgotten. Reach out to them to share God's love in meaningful ways, so they'll come to know His goodness in their lives.
View time from the right perspective. Keep the past, present, and future in a healthy perspective. Remember how God has demonstrated His goodness in the past, embrace His work in the present, and prepare for the better world that's coming in the future.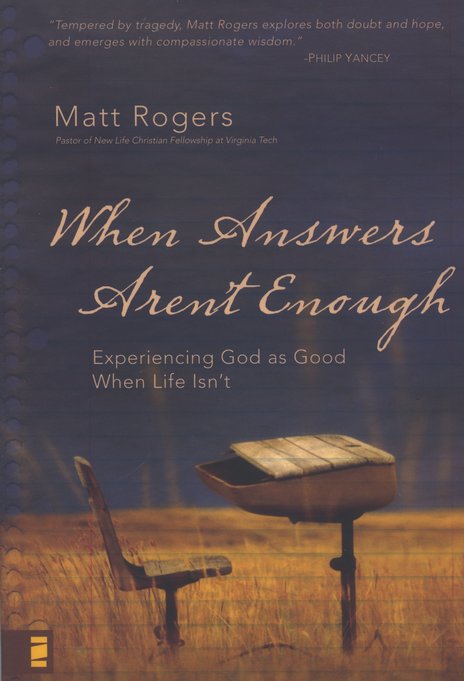 Adapted from When Answers Aren't Enough: Experiencing God as Good When Life Isn't, copyright 2008 by Matt Rogers. Published by Zondervan, Grand Rapids, Mich., www.zondervan.com.
Matt Rogers is copastor of New Life Christian Fellowship at Virginia Tech. 800 students call it home.
Recently on Spiritual Life
Have something to say about this article? Leave your comment via Facebook below!
advertise with us
Example: "Gen 1:1" "John 3" "Moses" "trust"
Advanced Search
Listen to Your Favorite Pastors