Faith & Falling: Our Struggle with Being Human
Jim Robinson
Tuesday, November 07, 2006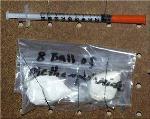 But when they continued asking him, he lifted up himself, and said unto them, He that is without sin among you, let him first cast a stone at her.  —John 8:7
The recent revelations regarding Reverend Ted Haggard's alleged involvement with drugs and homosexual sex are big news right now, and understandably so. Certainly, a religious leader in a highly influential position such as Haggard's at the New Life Church of Colorado Springs - not to mention the National Association of Evangelicals - should be held to a high public standard (although God only knows exactly what that has come to mean in this day and time). I am honestly not all that well-informed about the story, and not so sure the lurid details are something I want to know. Still, the ranting of the media is difficult to ignore.
All the pompous posturing is expected from critics of our faith, those who grab every opportunity to point out hypocrisy among high-profile Christian leaders. But the truth is, we Christians can be a bit eager to cast the first stone, too. It wouldn't take much at all, for instance, for me to jump on what appears to be a slash-and-bash bandwagon intent on not only destroying Haggard's reputation but also rubbing as much salt into the humiliation-wound as possible. When someone else is exposed as the same kind of broken human being I know myself to be — especially someone of high "moral" profile — it's tempting to redirect my own shame and fear onto the latest wounded whipping boy. It can make me feel better, in a warped sort of way.
I do not judge Haggard. I don't know his heart, or if he's truly repentant. Clearly, though, he is suffering, and while church leadership circles the wagons for damage control, I can't help but pray that someone is being Christ to Ted and his family.
The Illusion of "Normal"
Although I can't diagnose whether or not Haggard is, like me, an addict, his behavior has all the earmarks of at the very least compulsive behavior. Why else would anyone in a position of religious authority behave in such an abhorrent and dangerous way, risking so much?  Strong spiritual leaders in our country, like Haggard's friend James Dobson, have been crushed by this latest installment of Indecent Exposure, and seem genuinely baffled that someone they loved and trusted could have fallen so far. This just can't be… normal.
As a Christian counselor, I deal daily with those seeking some sort of grace in their lives, something to ease the pain of their existence, their loneliness, their brokenness. Often the person on my couch has tried it all — drugs or Satanism or sex or gambling or God-knows-what. He's tried rock-n-roll and holy rollin'. He's been knee-deep in squalor or up to his ears in splendor, drunk on fire water and dunked in holy water. He's a convict or a convicted, born again preacher. He's had a gun held to his head in a crack house and been prayed over at a tent revival, and sometimes he wears the fancy suit and does the praying over someone else. And now, staring across the room at me with eyes empty and barely hopeful, this person tells me that never, never in his whole life has he felt "normal."
Recently on Spiritual Life
Have something to say about this article? Leave your comment via Facebook below!
advertise with us
Example: "Gen 1:1" "John 3" "Moses" "trust"
Advanced Search
Listen to Your Favorite Pastors