Falling Into The Bible, Part 2: Mary's Well
Eva Marie Everson , Author & Speaker
Wednesday, October 02, 2002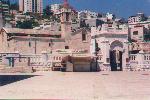 Editor's Note: In June 2002, author Eva Marie Everson toured the Holy Land as a journalist and photojournalist. For eight weeks Crosswalk.com will feature articles taken from her journal, as a Christian who "fell into the Bible."  Use them in your own study time or as a group, focusing on what the Bible says and what it means. Then, using the reflections at the end, think about what it means to you personally.
We were on our way to Nazareth, to a place called Mary's Well located at the northern end of Rehov Masqobia.  As our van wound along the curving roads and up along the rolling drives, I gazed out the window at the modern architecture and tried to remind myself this place had once been the boyhood home of Jesus.  It wasn't computing...and then we came to a stop and our tour guide said, "This is Mary's Well."  And just like that, I was transported to another time and a very different lifestyle.

Water is a vital part of my daily life, but fetching it isn't.  I get up in the morning, turn on the faucet in the bathroom sink and brush my teeth. I then pad into the kitchen, pour water into the coffeemaker and voila! Coffee.  During the day I shower in water, drink water, cook with water, saturate my lawn with water, and never give it a second thought.  Once a month my husband and I pay the water bill, but even that's not bad enough to make me ponder over the source of it.


But in Mary's day, a young girl or woman had to go to the town's water supply -- a well -- to draw water for the use of her family and for herself.  While we were in Hazor, we climbed into one such well, treading carefully down narrow steps that led nearly 135 feet into the earth.  Climbing down wasn't such a chore.  Climbing up was another story. 
"Now imagine doing this while carrying jugs of water," our tour guide, author Miriam Feinberg Vamosh (Daily Life At The Time Of Jesus, Concordia Publishing 2001) commented. I couldn't. I was too busy working at catching my breath.
Biblical History
The Hebrew word for well is "beer" and is the forename of places like Beersheba (Beer'Sheva) where Abraham's Well is located.  Many of the ancient wells found in the Holy Land were dug from limestone and oftentimes had steps that led into them. Some were supplied by springs. Women and young girls went to the wells to draw water typically in the early hours of the day, in order to have water to prepare bread that would be taken out into the fields. 
Recently on Spiritual Life
Have something to say about this article? Leave your comment via Facebook below!
advertise with us
Example: "Gen 1:1" "John 3" "Moses" "trust"
Advanced Search
Listen to Your Favorite Pastors