Falling Into The Bible, Part 2: Mary's Well
Eva Marie Everson , Author & Speaker
Wednesday, October 02, 2002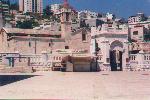 "The girls would have to be physically strong, in order to lift the skins or jars that were quite large," reports Miriam. "They would also have to be aware of their surroundings, especially if the well or spring were outside of the town, in order to protect their property and themselves from marauders and mischief-makers."

For centuries there was only one well in Nazareth.  During the period in which Mary lived there as a young girl and later as the wife and mother, she would have walked to this well daily, never dreaming, surely, that one day it would carry her name as a memorial.

According to tradition, Mary had gone to the well when the angel Gabriel visited her. "In the sixth month, God sent the angel Gabriel to Nazareth, a town in Galilee, to a virgin pledged to be married to a man named Joseph, a descendant of David. The virgin's name was Mary. The angel went to her and said, 'Greetings, you who are highly favored! The Lord is with you.' Mary was greatly troubled at his words and wondered what kind of greeting this might be. But the angel said to her, 'Do not be afraid, Mary, you have found favor with God. You will be with child and give birth to a son, and you are to give him the name Jesus. He will be great and will be called the Son of the Most High. The Lord God will give him the throne of his father David, and he will reign over the house of Jacob forever; his kingdom will never end.'" (Luke 1:26-33 NIV)
Of course the Bible doesn't tell us where Mary was when she received the news, but the traditional story of Mary's Well is generally accepted.  Scholars can argue about location, but they must agree this well was the only source of water during those days.


There are several biblical stories of women who went to wells to draw water and had life-altering experiences.  Rebekah's trip led to her marriage to Isaac (Genesis 24).  The Samaritan woman (John 4) came at an unusual time of day (noon, when fewer people would be present) and ended up confronting the Messiah.


According to the story, Jesus, who was resting at the well, asked the woman for water.  Because He was Jewish and she was Samaritan (bitter enemies), the woman questioned His request.  We can imagine the crinkle around His eyes as He said to her, "If you knew the gift of God and who it is that asks you for a drink, you would have asked him and he would have given you living water." (John 4:10 NIV)  Before their conversation had come to an end, He explained to her:


"Everyone who drinks this water will be thirsty again, but whoever drinks the water I give him will never thirst. Indeed, the water I give him will become in him a spring of water welling up to eternal life." (John 4:13,14 -- NIV)
Coming to the well for these two women meant life would never be the same.
Falling In
Recently on Spiritual Life
Have something to say about this article? Leave your comment via Facebook below!
advertise with us
Example: "Gen 1:1" "John 3" "Moses" "trust"
Advanced Search
Listen to Your Favorite Pastors