Falling Into The Bible, Part 2: Mary's Well
Eva Marie Everson , Author & Speaker
Wednesday, October 02, 2002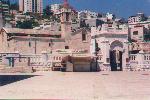 Today in a catacomb of an elaborate church known as St. Gabriel's Greek Orthodox Church of the Annunciation, a first century spring of water continues to flow.  One can walk from the square where Mary's Well stands, through the Grotto of St. Gabriel's and into the cool sanctuary of the church.  The architecture is rich and dark.  It's easy to feel transported within these hallowed walls and to imagine a young virgin coming to this very area to fetch water for her family.  But is it accurate?


Few viewers of Franco Zeffirelli's "Jesus of Nazareth" can forget the picture actress Olivia Hussey made in her portrayal of Mary the mother of Jesus.  Early in the epic film, the young Mary, sleeping soundly in her modest bedroom, is startled awake by the angel Gabriel.  She grips the sheets in her tiny fists as her hair cascades over her slender shoulders and her lips and eyes form a look of anxiousness.


Over the years many have held such a vision of the annunciation, that little sneak preview Gabriel gave to the virgin betrothed to a carpenter named Joseph, letting her know life would never be the same.  Tradition, on the other hand, gives us the story of Mary at the well.

If tradition is truth-and I have to admit to having my senses tantalized by such a story-then Mary came for water that would not satisfy and left knowing she'd be the mother of the One who'd one day say He was Living Water.


The question for me is not whether or not Mary was at the well or asleep in her bed.  The question for me is whether or not I look for God's purpose and plan for my life in the every day activities that I do. 

An additional question is whether or not I spiritually protect myself from my "enemy," that age-old mischief-maker himself, Satan.


Jesus has beckoned us to come, to drink, to be satisfied. Not because it's a daily chore, but because it's a daily desire.  Each day, as we seek to know God more intimately -- to reach His heart, even -- we draw from the well of His Word; we drink from His sustaining presence in prayer.


You never know whom you might meet when you come to the water.

And this is part of what I learned when I fell into the Bible.
Eva Marie Everson is the author of Shadow of Dreams & Summon the Shadows.  She is an award-winning national speaker and can be contacted at Bridegroomsbride@aol.com
Recently on Spiritual Life
Have something to say about this article? Leave your comment via Facebook below!
advertise with us
Example: "Gen 1:1" "John 3" "Moses" "trust"
Advanced Search
Listen to Your Favorite Pastors