Falling Into The Bible, Part 5: The Sea of Galilee
Eva Marie Everson
Wednesday, October 23, 2002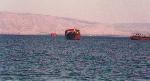 Learning more about Galilee and what took place there is paramount (or should be) for the modern Christian. It was in Galilee that Jesus grew up, called His disciples (they were all Galileans), preached, performed His first and His last miracles (as well as 23 significant other miracles), and cooked breakfast for His disciples after His death, burial and resurrection.
Shortly after His time in the desert, just after His baptism and just before His ministry began, Jesus went to Galilee to call those He would spend the next three-and-a-half years with in intimate travel.    
As Jesus was walking beside the Sea of Galilee, he saw two brothers, Simon called Peter and his brother Andrew. They were casting a net into the lake, for they were fishermen. "Come, follow me," Jesus said, "and I will make you fishers of men." At once they left their nets and followed him. Going on from there, he saw two other brothers, James son of Zebedee and his brother John. They were in a boat with their father Zebedee, preparing their nets. Jesus called them, and immediately they left the boat and their father and followed him. ~~ Matthew 4:18-22
It didn't take long before crowds were following Jesus everywhere He went. He gave the Sermon on the Mount (in Galilee) to a large number of people. They brought their sick, their demon-possessed, and those who were hungry to hear the Word of the Lord, and by this time, He was physically exhausted. Needing some "down time," he slipped into a boat along with his disciples and promptly fell into a deep sleep.
Without warning, a furious storm came up on the lake, so that the waves swept over the boat. But Jesus was sleeping. The disciples went and woke him, saying, "Lord, save us! We're going to drown!" He replied, "You of little faith, why are you so afraid?" Then he got up and rebuked the winds and the waves, and it was completely calm. The men were amazed and asked, "What kind of man is this? Even the winds and the waves obey him!" ~~Matthew 8:24-27
Just after this, Jesus called Matthew the Tax Collector to follow Him, endured criticism for dining with "tax collectors and sinners" (Matthew 9:11), answered detailed questions from the masses about the Law and grace, healed more of the sick, raised a young girl from the dead, preached continuously, heard that His mother, sisters and brothers were concerned and wanted to speak to Him, began to teach in parables, learned that John the Baptist had been beheaded at the whim of the step-daughter of Herod Antipas, and fed five thousand men (not including women and children) with five loaves and two fish (and still had leftovers).
Once again, exhausted, He needed some down time.
Immediately Jesus made the disciples get into the boat and go on ahead of him to the other side, while he dismissed the crowd. After he had dismissed them, he went up on a mountainside by himself to pray. When evening came, he was there alone, but the boat was already a considerable distance from land, buffeted by the waves because the wind was against it.
Recently on Spiritual Life
Have something to say about this article? Leave your comment via Facebook below!
advertise with us
Example: "Gen 1:1" "John 3" "Moses" "trust"
Advanced Search
Listen to Your Favorite Pastors